News
Julian preserving buildings to tell story of rural lives
After a successful renovation of a filling station, Julian's Preservation Committee sets sights on old post office
JULIAN - The U.S. Post Office in Julian drew a crowd of 125 at an open house in 1971 and offered new stamps for sale in 1966 of a mongrel dog named Babe that marked the 100th anniversary of the American Society of the Prevention of Cruelty to Animals. The post office registered residents for soil conservation services and Medicare in the wake of the Great Depression and the early French settlement had a role in the establishment of the English town of Dover just five miles away.
The mail has a story to tell about rural Nebraska and the people of Julian are hoping to tell it.
Preservation committee members Grace Burgert, Kevin Boos and Beth Kernes-Krause said the village, known as the largest French settlement in southeast Nebraska 150 years ago, is working to refurbish its old post office and make new Julian stories.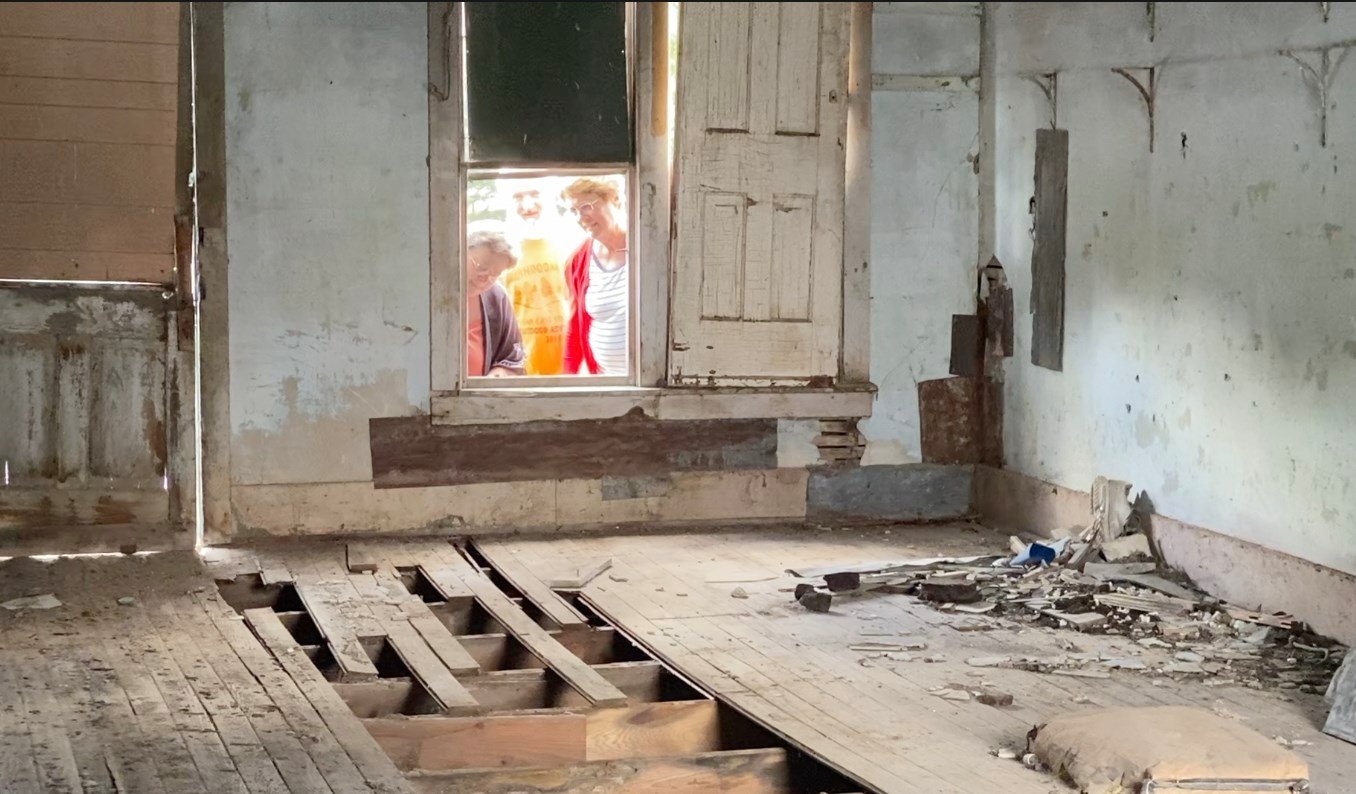 Kernes-Krause: "It's never been huge, you know, a few hundred people at the most at the pinnacle, but there have been people in and out of this community and have very fond memories of the community."
Kernes-Krause: "I'm continually amazed at the number of people that I will come across in other parts of my life that know where Julian is and have a Julian story.
Boos: "Yeah, they've all got these stories and they remember  when they were kids going into the Epler store or the McKinley store. They remember buying as here. … well, if you tear it all down, it's gone. And I think they realize that."
Burgert said people who have only know the city, love to visit Julian.
Burgert: "They just go all over the town. They just love the freedom of it and love the differentness of it. They love to come here."
Burgert said the post office had five different locations before it was discontinued in Julian. The only remaining building is worn down, but she says it's ready for renewal at a new location on the north side of the filling station.
Burgert: "I think the funniest story I have heard about the postal years is that the train used to drop off the mail. If a train wasn't stopping because of someone getting on or off, they would just throw the mailbag out. Joe Epler, who was our last postmaster, he remembers, as a young man, going down to get it for his uncle and he couldn't find it. Someone else found it, but that's how the mail was delivered at the time."
Beth Kernes-Krause remembers childhood trips to the post office to see the FBI's most wanted posters.
Krause: "So we'd go down there and look at them. It was always a hope that, you know, we could get the reward if we recognize, so we'd try to memorize all of the faces and everything."
They hope to raise funds to refurbish the building and have space inside for memorabilia and the history of mail delivery.
Boos: "So now, is this right here going to be one of those things? If it wasn't for the track history of yes, we did something over the past three years, I would say no, it's a pretty small chance, but now that people are saying, should I go ahead and donate some money, is it going to go to waste. I think the gas station and those things show no, it's not going to go to waste."
The building was used as a post office in the 1940s and 1950s.
U.G. Mignery claims to have had role in building the towns first building because of a train route.
A newspaper articles says post office robbed under the Julian news heading. Thieves blew up a safe and stole $70 in postage stamps. This may have occurred between 1935 and 1936.
Two special, five-cent stamps were on sale at the Julian Post Office in 1966. One featured a four-year-old mongrel dog named Babe. It marked the 100th anniversary of the American Society of the Prevention of Cruelty to Animals. A second stamp was for Indiana statehood.
125 guests attended a post office open house in 1971. Jo and Velma Epler were assistant postmasters.
June 28, 1971, the Julian Post Office held and open house. Souvenir envelops were given out and refreshments served.