News
Auburn renews sheriff's contract with pay raises
Clark calls for enforcement of ban on street parking
Wednesday, November 15th 2023, 4:22 PM CST
AUBURN – Enforcement of the city of Auburn's ban on street parking in residential areas was a factor in discussions over a $440,000 law enforcement contract, but the council voted in favor of the Nemaha County Sheriff's Office with pay raises each of the next three years.
Three-year contract starts at just over $444,000 and increases to $471,000 by 2026.
Councilman Tom Clark read from a letter at the meeting saying he opposes the law enforcement contract because of insufficient enforcement of overnight parking on city streets, people sleeping in vehicles, unlicensed vehicles and yard complaints.
Clark: "To compensate for the lack of enforcement the city has hired a full-time ordinance officer to complete the ordinance enforcement. Auburn residents are already paying for this service through the county taxes. The city should not need to contribute 30 percent more to the Nemaha County sheriff's budget for coverage. No other cities or villages within Nemaha County are paying extra for law enforcement services."
He said the expense would be better spent on streets, infill housing, parks and recreation.
Sheriff Brent Lottman said crimes against persons take priority. In regard to code enforcement, he said letters to landowners are usually enough to get compliance with issues like yard mowing and said Auburn's ban on street parking is 24/7, but he understands the city expects only night-time enforcement.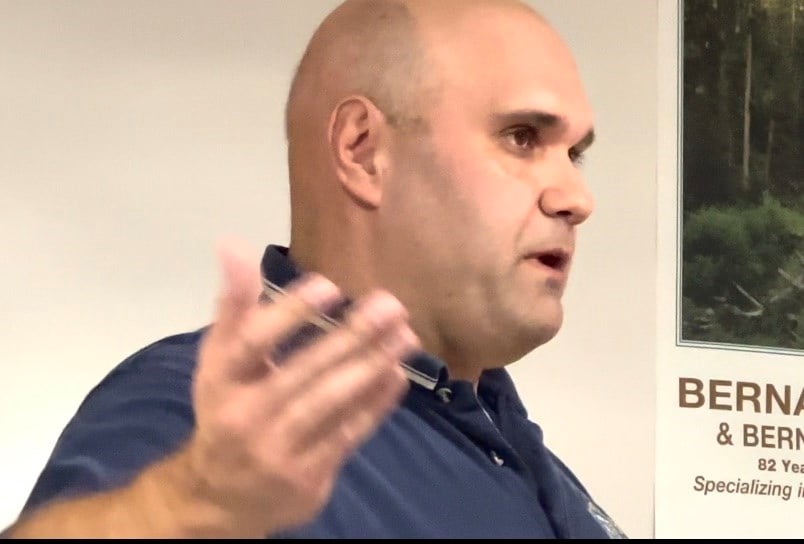 Lottman: "Ultimately in law enforcement in general the objective is voluntary compliance. I'm not sure, like you guy's ordinance on weeds requires the five-day notice. Every year, prior to this year we sent out a number of those and the vast majority of them get it mowed. We've issued citations. Most of those conversations take place with city attorneys, whether we issue citations, getting information on how to file complaints, how that is going to happen."
Resident Bob Engles supported approval of the contract saying the city has better law enforcement protection than it ever has before.
He said the issues of code enforcement that Clark mentioned also existed when the city had its own police department.
Councilman Jeff Jeanneret said Auburn benefits from the agreement and its ideal of a deputy in town 24/7.
Councilwoman Katy Billings said it is comfort to see deputies in town day and night.
Billings: "Yeah, we live in a pretty decently safe community, but never say never. I would say from the comments that I have heard over the past month from citizens they mirror that as well. All the comments that I heard the 24-hour coverage is important to our citizens, to the constituents that I've heard from."
Mayor Chris Erickson did not contribute to the discussion because he is a part-time deputy.
Councilman Shawn Clark also cast a dissenting vote in the 4-2 decision.
--- This story updated to include annual increases and to show a vote of 4-2, rather than 3-2 as published earlier