News
Man accused of kidnapping his father
Bond set in Cass County at $500,000
Thursday, November 9th 2023, 9:27 AM CST
PLATTSMOUTH -  A Walton man is charged with kidnapping and assault of his father at a rural Eagle residence Nov. 6.
An assault charge was filed against Seth Ketelhut, 37, last January and sheriff's deputies say he violated a protection order Monday when he forced his father to sit in a chair over a 20-hour period.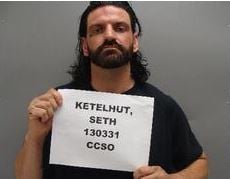 An arrest affidavit says the victim told investigators that Ketelhut stabbed a steak knife into the floor by the chair and presented a .22 caliber gun. The victim said Ketelhut repeatedly flipped a coin while saying 'are you going to live or die?'
A $500,000 bond was set for Ketelhut, who is scheduled for sentencing on Nov. 13 for the January assault.