News
Mexico torture victim objects to Nebraska court proceedings
Flight to avoid arrest suspect says his body is being used to coerce him into contracting with a court-appointed attorney
Thursday, May 18th 2023, 11:37 AM CDT
FALLS CITY – An American, who gained notoriety when his case led to the disarmament of a police force in the Mexican city of Taxco and a government investigation into multiple torture complaints, objected Wednesday to court proceedings in Richardson County.
Court records say 53-year-old Ronald J. Wooden is suspected of felony operating a motor vehicle to avoid arrest on May 7. A Richardson County sheriff's deputy provided an affidavit to the court that says Wooden was arrested after spike strips were used to end a police pursuit near Dawson.
The affidavit says deputies were alerted that Kansas authorities where chasing a white pickup across the Kansas border and a deputy attempted to stop Wooden's white pickup.
Wooden: "I have suffered at the hands of these people without corpus delecti. I have injured no man or done damage to property. They have held me, coerced me trying to get me to contract with them. I am a duly recognized victim of torture."
At the court appearance, Wooden described Judge Richard Smith's ruling to appoint Timothy Nelsen as his "standby" attorney as coercion.
Wooden said he would conditionally accept the appointment of a lawyer only if the lawyer would attest that he has full comprehension of Wooden's rights and he or she will put Wooden's interests ahead of the interests of the Nebraska Bar Association.
Wooden: "You can not force me into a contract . Again, I make this claim, I have been forcibly coerced into a contracting with a synthetic entity created by this court for the purposes of making a claim against me."
Wooden describes himself as a human rights advocate who is recognized by the United Nations as a victim of torture at the hands of the government of Mexico. He said he is originally from Iowa, but is now a permanent resident of Mexico.
Wooden: "I have been caught up in an adult human trafficking for profit scheme by a title 3 court that has no jurisdiction over a living man who has injured no one. I have been held against my will for traffic violations . I'm not a licensed driver. I'm not contracted as a driver."
Wooden: "My body is being used as a tool to coerce me into contracting with the court."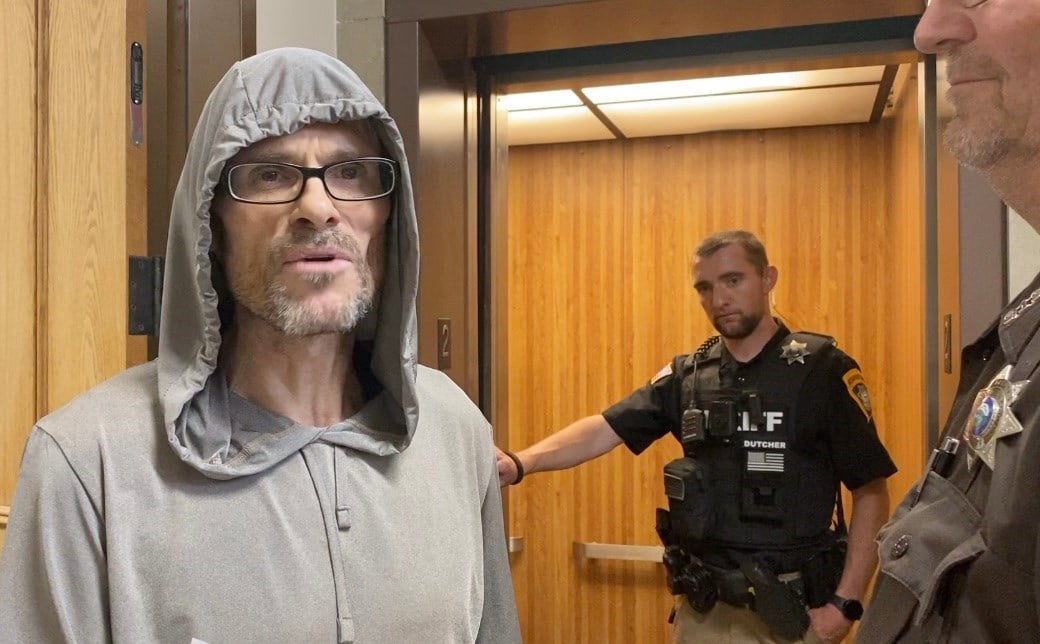 An online Christian Science Monitor story says Wooden is an American citizen who won a court order for a criminal investigation into a beating he says he received from police in Mexico's southern city of Taxco.
Wooden told the Associated Press that he has suffered lasting injuries from the 2013 beating.
As a result of the case, which involved Amnesty International, the court disarmed the Taxco police and ordered a government investigation into the case.
Wooden was in shackles at the Richardson County hearing, but deputies allowed him to make a statement to News Channel Nebraska after leaving the courtroom.
Wooden: "I have no animosity or ill will toward any of these men. This is an adversarial process. I offer no violence. I offer no insult. I am a man of peace."
He described himself as a non-aggressor and non-combatant.
Judge Smith told Wooden they would make no progress at Wednesday's hearing. The judge would typically set a bond and conditions for a suspect's release, but did not because of Wooden's interruptions when the judge attempted to speak. Judge Smith said he will again "attempt" to inform Wooden of his rights at a May 22 hearing.
To that Wooden continued to repeat "objection."
Wooden: "It's not an attempt, it's a coercion. You're coercing me to contract with the court and,  due to a lack of subject matter jurisdiction, first-hand evidence, first-hand witnesses, you have no subject matter jurisdiction over my body as a living man."
He moved for the court to dismiss all charges.
The judge denied the motion to dismiss.
Wooden said he is being held without concrete evidence and  he intends to file a claim against the state of Nebraska, against the court and "each and every one of  you in your living man or living woman entity."
Wooden was accompanied in the courtroom by a man he says he has authorized to serve as his human rights advocate.