News
Enhanced storm risk this evening
Storm Prediction Center watching mid-Missouri valley to Rio Grande Valley in Texas
Friday, May 12th 2023, 7:40 AM CDT
 Friday morning map shows enhanced risk, but that category was removed by noon
NORMAN, Okla.  - The storm prediction center in Norman, Okla., has placed most of River Country in the slight risk category for severe thunderstorms on Friday, but has added an enhanced risk area in northeast Nebraska.
Hail and damaging winds with a couple of tornadoes are possible from the Mid-Missouri Valley southward to the Rio Grande Valley.
Forecaster say it is probable that clusters of cells will organize in southeast Nebraska and adjacent Iowa and Missouri  through the evening Friday.
The storm prediction center says a corridor of longer-lived supercells may emerge across portions of northeast Nebraska. The weather service says risks could be more severe if longer-lived supercells develop there.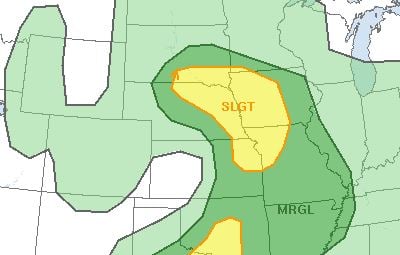 Storm prediction center graph on Thursday shows no enhanced risk area that was added Friday morning