News
Eagle killing makes national headlines
Congressman calls for federal action against immigrants who told deputies they planned to eat the eagle
Tuesday, March 7th 2023, 8:11 AM CST
The American bald eagle killed in Nebraska by two men who reportedly planned to eat it is making national headlines and drawing social media reaction.
The Stanton County Sheriff's Office says two 20-year-old men have been cited with unlawful possession of the eagle. A New York Times report says the men had been hunting  and sheriff's deputies asked to look inside their bag, when the eagle was found.
The men do not speak English and deputies say it appears they did not know they had shot America's national bird at the Wood Duck Recreation Area.
Congressman Mike Flood tweeted more information after speaking with Sheriff Mike Unger.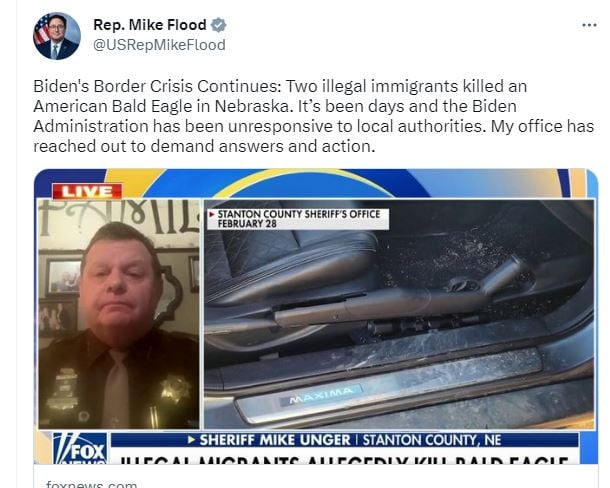 The men, who are living in Norfolk, are identified as Honduran nationals Ramiro Hernandez-Tziquin and Domingo Zetino-Hernandez. They are charged with a misdemeanor in Nebraska, but more serious federal charges could be filed.

Rep. Flood issued the following statement.

"President Biden's open borders policy in action continues to unfold: Two illegal immigrants killed an American Bald Eagle right here in Nebraska. It's been days and the Biden Administration has been unresponsive to local authorities — my office has reached out to demand answers about what will be done."
Nebraska Game and Parks Commission took custody of the eagle.
Bald eagles are protected under federal law since 1940, when the bald eagle was at risk of extinction.