News
Peru State's Dodge remains humble despite national honor
Garrison Dodge has left a lasting impact at Peru State College, cemented by his selection to the 2022 Allstate AFCA Good Works Team.
Tuesday, November 15th 2022, 1:06 PM CST
Peru State College
PERU, Neb. - When the 31st Allstate American Football Coaches Association (AFCA) Good Works Team members were announced, there were the big names you'd expect like University of Southern California (USC) quarterback Caleb Williams and Stanford's Pat Fields.
But also making the cut--from the smallest school among the bunch--was Peru State wide receiver Garrison Dodge. 
Dodge, a senior from Oakland, Neb., joins a distinguished list of players along with 21 others who made the 2022 team. Players are nominated by their schools and then chosen to join the roster by an AFCA panel consisting of former Good Works Team members, journalists and officials from Allstate. 
Among those on the panel are former Heisman Trophy winner Tim Tebow and ESPN's Kirk Herbstreit. A list of 114 nominees was narrowed down to the final 22 in July, with players from the Football Bowl Subdivision (FBS), Football Championship Subdivision (FCS), Division II, Division III and NAIA all being represented. 
Dodge said he has tried his best to remain humble about the situation, but he did acknowledge that making the Good Works Team roster is "pretty awesome," especially being from a small school like PSC. 
"It's pretty exciting knowing that, you know, that someone at Peru State can compete with the big dogs like that," Dodge said of making the team with other players from big schools like USC, Texas Tech and Auburn.
The Allstate Good Works Team is unique in that it highlights what players are doing off the field rather than on it. Some players raise money for charity, donate NIL funds to good causes, start nonprofits or volunteer in their communities. 
In the case of Dodge, throughout his time at PSC he has raised over $18,000 for the Children's Hospital of Omaha through 'Athletes 4 Children', a charity foundation he started with his dad, while accumulating well over 1,500 hours of community service time. A feat not easy for someone juggling school, football and a personal life.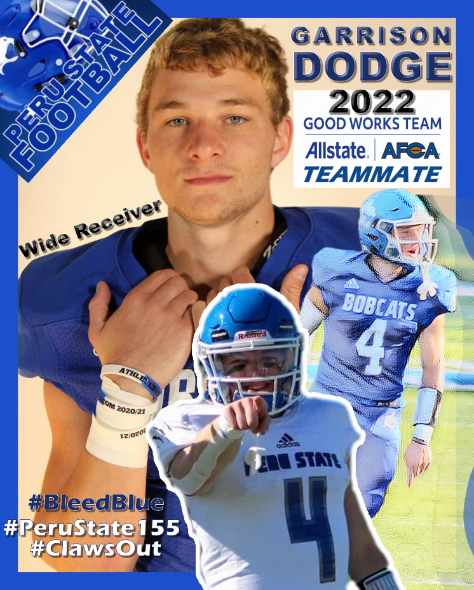 "I thought it was really important to give back to the community of Peru," Dodge said. "They do a lot for us whether it's just the football team or just being a student in a small town just like that in general. I grew up in a small town...it was always a big thing to give back to the community because they give so much to you.
"... (Volunteering) kind of just came natural to me to do a bunch of community service. Thats how I was raised and how I grew up." 
Dodge added that there is "no timestamp" to community service, so he tries to take advantage of his free time whenever he can. 
He has also spent the better part of the last two years serving as a leader in the Sexual Assault Awareness Month Planning Committee where he has organized donation drives for Project Response, which serves victims of domestic and sexual abuse. 
Despite having two years of remaining eligibility left, Dodge participated in senior day festivities this past Saturday at the Oak Bowl, which was a 17-12 Peru State victory over Culver-Stockton. 
Dodge plans to focus on finishing his degree in physical education with hopes of finding a teaching job somewhere, and he is optimistic that his charity work can continue after graduation. 
"I think my dad and I will have 'Athletes 4 Children' still be a major donator for Children's Hospital (of Omaha)," Dodge said. "Even though I'm not at Peru or anywhere else, I think we can still get athletes to be a part of our team to donate money."
Dodge is in the running for captain of the Allstate AFCA Good Works Team and individuals are encouraged to vote for him or any of the other deserving student-athletes at Allstate AFCA Good Works Team® | ESPN. Votes are allowed once per day up until Nov. 22.