News
Sidney sweeps its way to 1A Region 2 championship match
Sidney earned its third straight sweep, taking down East Mills to advance to Wednesday's championship match of the Class 1A Region 2 regional.
Tuesday, October 25th 2022, 8:12 AM CDT
SIDNEY, Iowa - There wasn't an empty seat in the house from the lower bowl all the way to the upper deck Monday. Some folks stood along each baseline to make sure they had a view of another terrific volleyball match between Sidney and East Mills. 
And on this night, the raucous home volleyball crowd had plenty to cheer about as the Cowgirls swept the Wolverines in straight sets in the semifinals of the Class 1A Region 2 regional tournament.
The Cowgirls took the opening set 25-21, but relinquished a couple of leads throughout the set as the Wolverines battled back. It was a 3-0 start for Sidney before East Mills answered. 
Then Sidney (32-8) built up a 20-15 lead and it looked to be running away with the first set when East Mills scored five straight to once again tie the set at 20 before Sidney scored five of the last six points.
Set two was the best of the night with each team unable to get more than a point or two ahead at any point. But the Cowgirls best attacker got going in the second set in Kaden Payne. 
Payne was able to get the final kill for Sidney in to win set two 25-23. 
In the third set, it was all Sidney.
The Cowgirls built up an eight-point lead on multiple occasions, getting up 22-14 before finishing the match with a 25-19 win. Payne led Sidney with 15 kills while Aunika Hayes added 13. Senior libero Emily Hutt controlled things on the backline with 27 digs.
It was Sidney's third win over East Mills on the year and the first to not go a full five sets as the two strong programs battled time and time again this season. 
Senior setter Avery Dowling had 39 assists, one of which pushed her over the 2,000-career assist mark. The Cowgirls posed with Dowling for a photo after the match where a poster was made for her milestone achievement.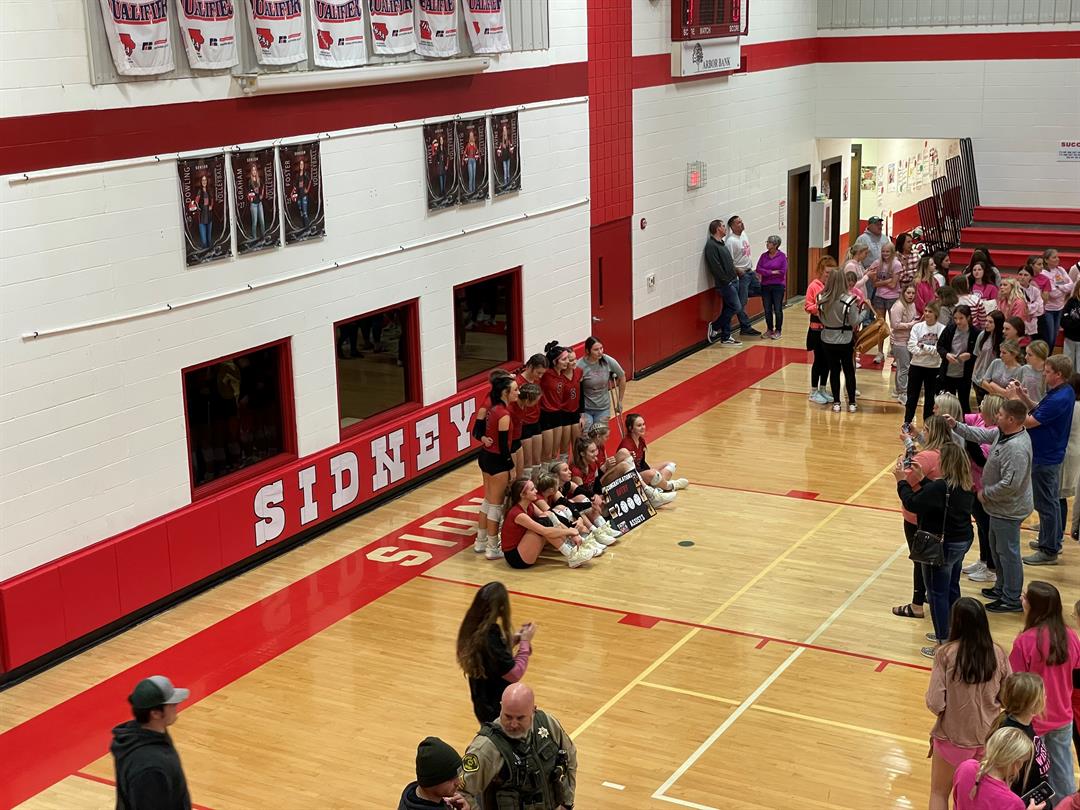 For East Mills (28-10), the season comes to a close. The Wolverines played with heavy hearts following the death of student Kennedy Haley this past week. Both teams wore warm up shirts to honor Haley while many in the crowd wore pink in support. 
Sidney will take on Ankeny-Christian (35-3) in the championship match on Wednesday at 7 p.m. for a spot at state.
East Mills (28-10): 21, 23, 19 - 0
Sidney (32-8): 25, 25, 25 - 3