News
Johnson-Brock teacher wins $50,000 national prize for skilled trade education
Harbor Freight Tools awards Ashton Bohling
JOHNSON – Johnson-Brock industrial arts students can redesign oxyfuel stations, run their own lawn mower maintenance business and serve on a Skilled and Technical Sciences Advisory Council all in collaboration with a national, award-winning teacher.
Ashton Bohling said her personal study to transition from primarily agriculture education to industrial arts helped in her application for the Harbor Freight Tools "teaching in excellence award."
Bohling: "I am not a shop teacher by trade. I'm originally an ag teacher, so I've had some time to really learn some different skills and take some classes, but also rely on community members that helped me learn the skills I need to be able to teach my students."
Bohling: "I think that's been a fun process of learning along with my students. I think it makes me able to connect with them a little bit more, when we are both troubleshooting the same problem, rather than me just having all the answers."
The 2022 prize, sponsored by the national tool retailer since 2017, drew 768 applications from all 50 states. School Board President Paul Moerer credited Harbor Freight for recognizing teachers who inspire students to learn skills that prepare them for life after graduation.
Moerer: "This is really a great moment for our school and for Johnson-Brock School District. She is promoting local industry. She is trying to get the shop program really on board. It's really a great thing that she would apply for this and want the best for her students."
Moerer said welding is among the skills sought by local employers and he expects the $35,000 award to the school to help tremendously in the shop.
Moerer: "It's good for the students. Anything we can do to help the students --  that's what we are going to do."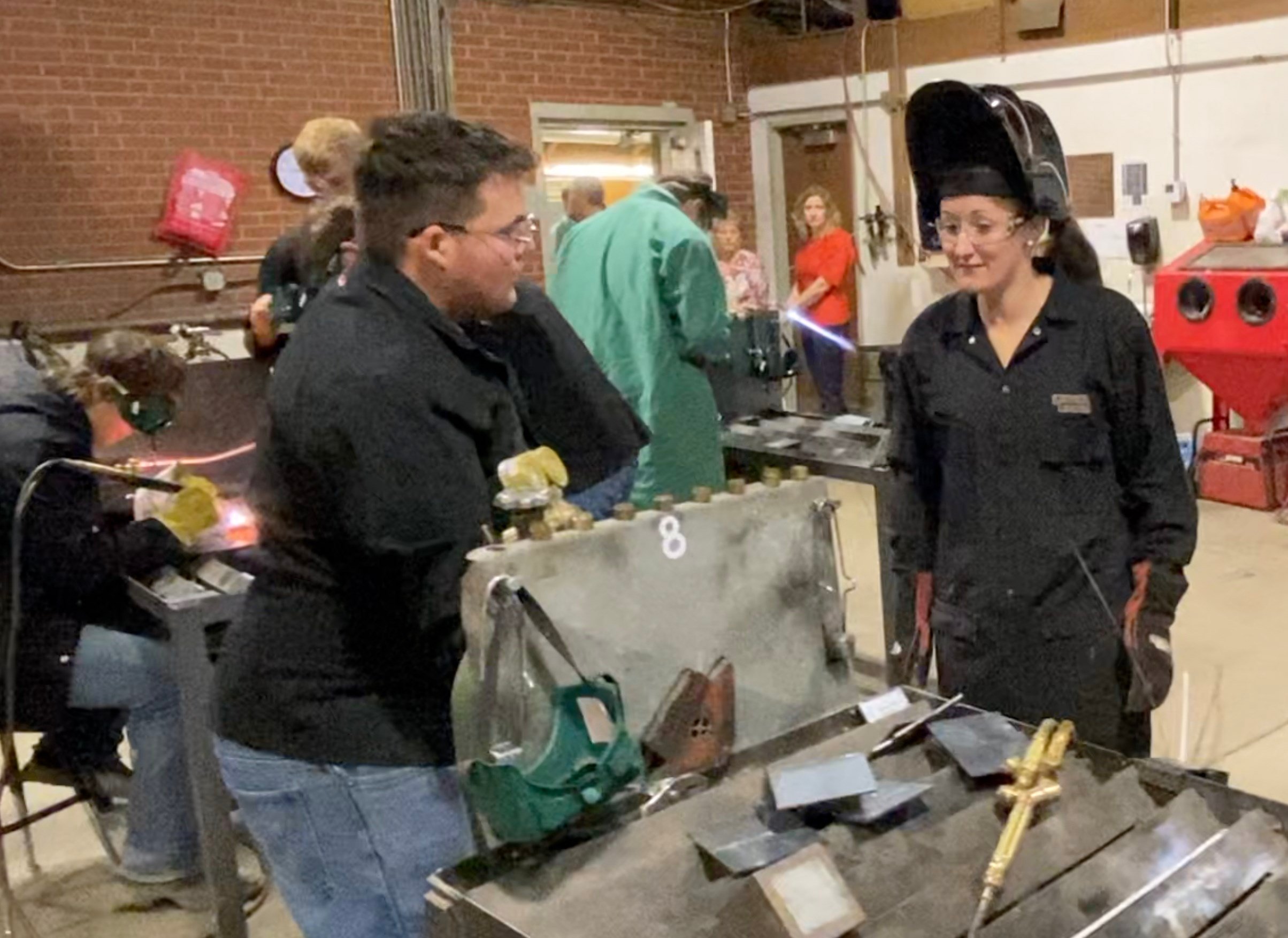 Seniors Chase Holthus and Natalie Clark said students are excited about programs like work-based learning, where they can spend a part of their school day gaining work experience. Three students also serve on an advisory council to help identify work opportunities for students.
Clark: "Mrs. Bohling is always a teacher that we love to be with. Everyone is trying to get into her classes because she is one that is very hands-on. You know you're not going to be stuck in a classroom all day, which is super nice. She's always there to help you do it your way, not exactly textbook all the time."
Holthus: "I thought the advisory council was a good thing because it connected students and teachers with professionals from the community and it built stronger ties with the teachers and students. If they ever wanted to get out into that workforce they could have a connection."
A project that stemmed out of ag business class was the lawn mower maintenance and repair service.
Bohling: "So I figured what better way to teach shop students how to run a business than to do it. So we ran JB Lawn Mower Maintenance and changed oil and sharpened blades in a lot of lawnmowers. That was a fun project too because the kids learned financial management, marketing, advertising and communication, but also the technical skills on the lawn mowers."
She said industrial technology classes help students see how they can fit community roles as electricians, plumbers  and builders.
Bohling: "I think students are able to see the connection. They like that they are able to learn how to fix something at their own house or learn how to build something they can use. I think that's really important to students."
Bohling: "Those aren't jobs we can outsource. We need those people here in our local community.  I think that's good for students, but also it's just a nice brain break for students to be able to come down to the shop and create and build and troubleshoot in the shop.
$15,000 of the $50,000 prize goes to Bohling, who says she brings local experts into the classroom to give pointers and she encourages students to create a solutions-based culture in her shop. The number of students in the welding class alone, has grown from three to 12 this semester.