News
Peru's new grocery store puts focus on 'community'
Family-owned grocery store that made headlines during the pandemic opens second location in Peru
Thursday, September 22nd 2022, 2:39 PM CDT
PERU - DJ and Lindy Schmidt were thrilled Thursday with the opening of a second location for The Market grocery store and a gathering of top-of-the-morning shoppers at Peru.
DJ Schmidt:  "Thank you so much from the bottom of our hearts. I'm shaken. I wasn't expecting a crowd like this."
Deborah Solie, the disaster recovery coordinator for the Northeast Nemaha County Recovery Group, said the family-owned business thrived in Louisville during the pandemic with its small town, small store, big selection style of business.
Solie: " They've met with the people, they've done community visits, they've done meetings on campus. They are really focused on how they can meet the needs of our community and the college and our students and be successful, that's what is really exciting."
The store offers the staples, as well as a selection of Nebraska-made products. There is popcorn from Tecumseh, Rotella's Italian Bakery from LaVista, Uncle Ernie's BBQ from Cedar Creek, Garcia Farms Salsa from Wood River, honey from Fat Head Farms in Clarkson and handcrafted granola from Omaha.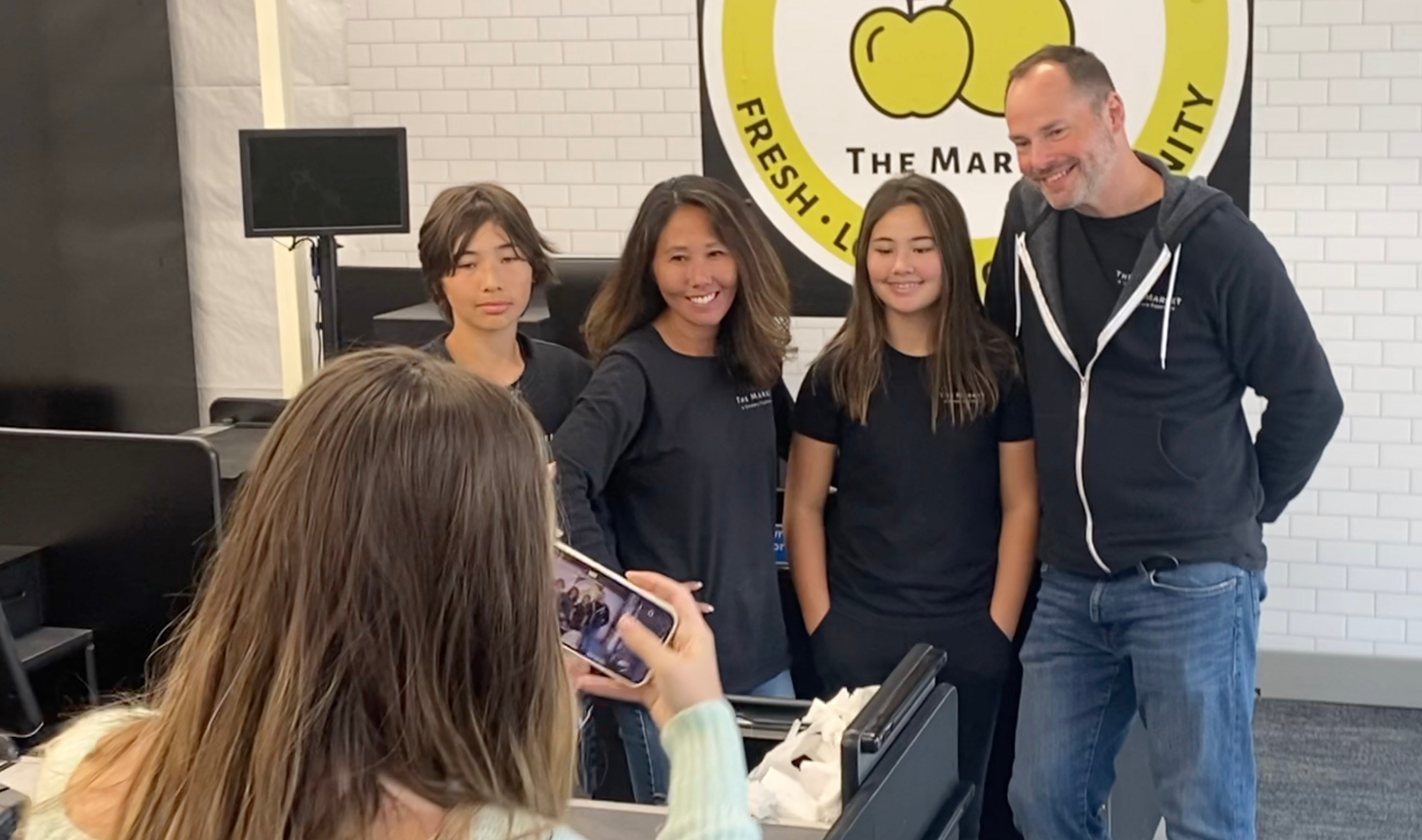 Schmidt: "Having local businesses in our local business is very important to us. We actually work with the health inspectors, the state health inspection department, to connect new business entrepreneurs to kind of cut away some of the red tape for them. … not only do we want to carry local products, but we want to help other entrepreneurs achieve their goals like so many people have done for us."
Schmidt: "… We are not going to stop. We've found our secret formula and we're going to keep rolling as long as communities will take us."
Phil Allgood was among those attending the ribbon cutting and says he started working at the Peru grocery store at the age of 10, soon after the old store caught fire in 1963. For 60 years the store was a fixture for the city of about 900 people.
Peru Mayor Dave Pease said it was heartbreaking to hear the grocery store was closing down and costly for those driving out of town with their shopping list.
Pease: "We don't have that problem anymore. You would be amazed at how much variety they can have in this building. It's not all that big, but everything you're going to need, you can get right here."
A Nebraska Extension survey showed that 90 percent of the people who live in Peru work outside of town and 90 percent of people who work in Peru live outside of town.  Michael Evans, president of Peru State College, said the store means a lot of the City of Peru and to Peru State College.
 College sophomores Jeremy Matuszewski and AJ Russell said the new store will save the time and expense of driving out of town. The members of Peru State College's cross country team reacted to the idea of literally running out for groceries.
Russell: "I don't know about that far.
Matuszewski: "That seven-mile road is going to get us.
Russell: "We could definitely run here."
Matuszewski: "We run past this store about every single day. We saw the progress coming along and we were just waiting. We turned our heads every single time we ran by and saying, oh,it's getting closer.
Lindy Schmidt welcomed the crowd at the ribbon cutting.
Lindy Schmidt: "We are so extremely excited to finally unveil The Market to Peru community. We couldn't thank you enough for your patients, your willingness to accept us into your community, your optimism. It's been a wonderful journey for us."