News
Women, Land and Legacy hosted Uplifting Event
Women, Land and Legacy of Southwest Iowa hosted an event on Wednesday, Sept. 7, called, "Doing Good With What You Have."
Friday, September 16th 2022, 9:09 AM CDT
Mandy Maher
Women, Land and Legacy of Southwest Iowa hosted an event on Wednesday, Sept. 7, called, "Doing Good With What You Have." It featured three local entities with inspiring stories about serving others by utilizing the resources they have. Forty-six women from southwest Iowa and southeast Nebraska attended the event, and nearly half were attending for the first time. A special sponsorship was provided by Farm Credit Services of America.
The first stop of the evening was at the home of Corrine and Dave Jenkins. In 2016, their family planted a package of pumpkin seeds on their acreage
south of Red Oak. Their patch performed well enough that they decided to sell the pumpkins and use the money raised to serve others. Thus, The
LaLa Project, named in honor of Corrine's late mother, Linda Lally, AKA LaLa, came to be. The pumpkin money is used to put together care
packages for cancer patients at the Montgomery County Memorial Hospital in Red Oak. Corrine estimates about 200 people benefit annually, a huge
number of cancer warriors for such a small community.
Dave and Corrine were joined by Kase Bruning, a third-grader, who is growing his own pumpkin patch to benefit The LaLa Project. Kase,
Corrine, and Dave described the process of planting, weeding, spraying, harvesting and selling the pumpkins while showing off the various types of
pumpkins and gourds they will have available at their sale Sunday, Sept. 25 at 1 pm.
The next stop was The Five One 8, a venue located on the northeast corner of the square in Red Oak. The Five One 8 is an art gallery and event space that hosts live music, art classes, private parties and frequent special events. Like the art on the walls, the beer and wine list features Iowa selections, crafted by local artisans. Owner Phil Lamb shared the evolution of the space with the group. He and his tribe are proud to provide a setting for local artists to be celebrated while hosting events that strengthen the community both socially and economically, including fundraisers that greatly impact local non-profit organizations.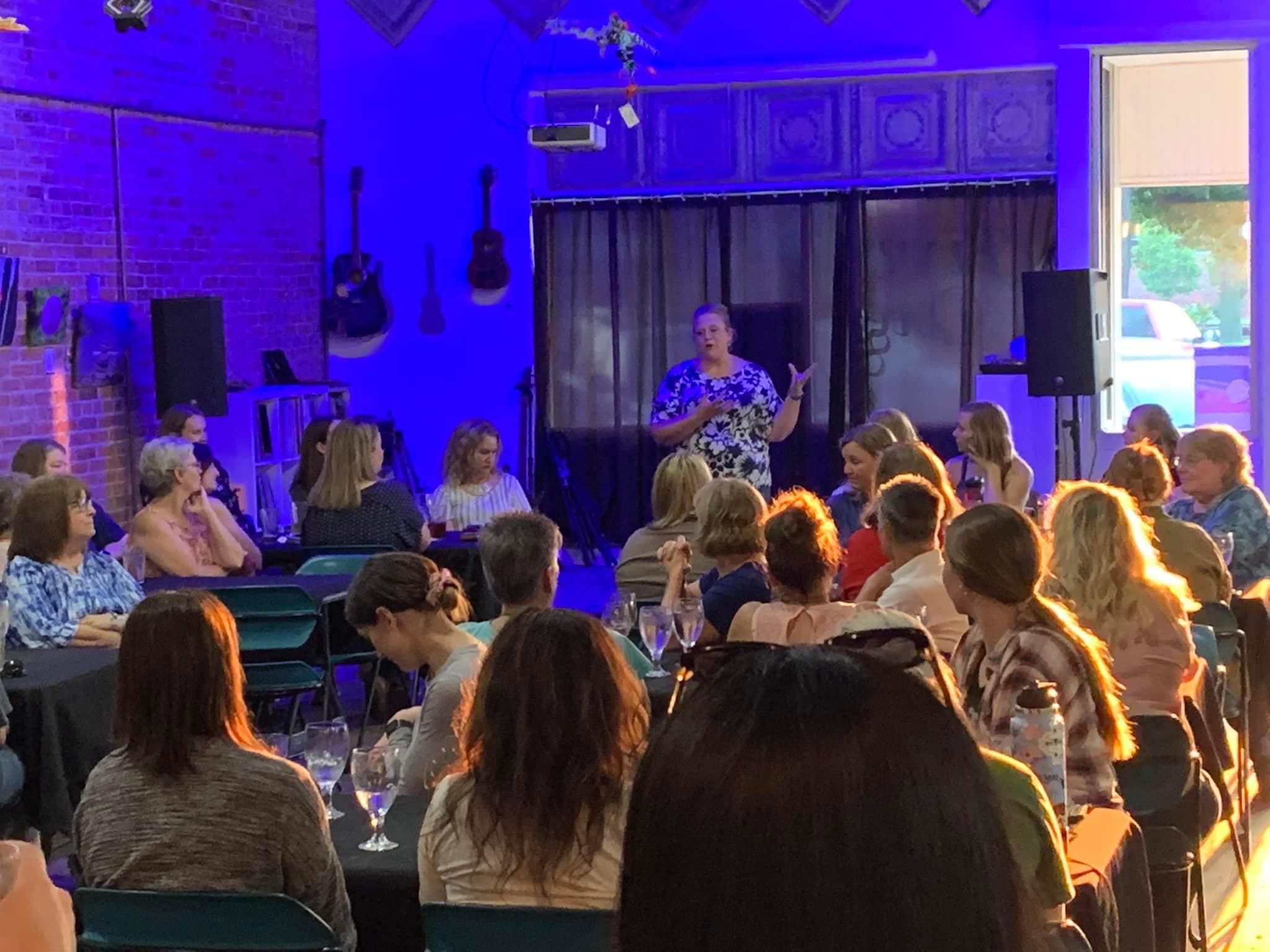 Catering the buffet of deviled eggs, BLT sandwiches, salad, and gourmet macaroni and cheese was Equality Farm and Foods. Owner Delton Lyden spoke about the farm's mission of providing high quality, locally sourced foods to the area. Besides catering, Delton and his husband, Ryan, prepare and deliver fresh and delicious foods every Friday to homes and businesses within 60 miles of their Emerson-based farm. They take great pride in feeding wholesome foods to their customers. All menu items, including garden produce, are available to order through their website, equalityfarmandfoods.com.
Women, Land & Legacy events are fun, casual, and educational! They are sponsored through a partnership of Fremont, Mills, Montgomery and Page County Farm Service Agencies, Soil and Water Conservation Districts, Iowa State University Extension and Outreach, and the Women, Land and Legacy
Committee. WLL is committed to offering learning opportunities for rural women in areas such as business, management, agriculture, and family. They strive to offer quarterly educational events in addition to an annual conference, dubbed Women Gaining Ground. We are an equal opportunity provider. New members welcome!
For more information about local WLL events, follow our Facebook page: https://www.facebook.com/womenlandlegacywgg; or contact your local Extension office.