News
Signs of caring popping up
Four County Collaborative promote mental wellness
Tuesday, August 2nd 2022, 3:26 PM CDT
NEBRASKA CITY – The Four County Collaborative is helping make sure there a signs of caring in their communities.
Laura Osborne said the group began meeting about a year ago and discussions turned to mental health.
Osborne: "We decided that we could begin to address this concern by putting messages of encouragement and hope out there for people through yard signs and then, additionally, to add signage that shows people how to obtain help if they were experiencing difficulty with mental wellness, such as depression, anxiety or even suicidal thoughts."
Their signs display a positive message, such as You Are Enough and You Matter, along with the new "988" mental health assistance hotline.
Osborne said for someone feeling overwhelmed by stress a sign that says 'You Got This' or 'One Day at a Time' may be enough to help take a breath and feel calmer.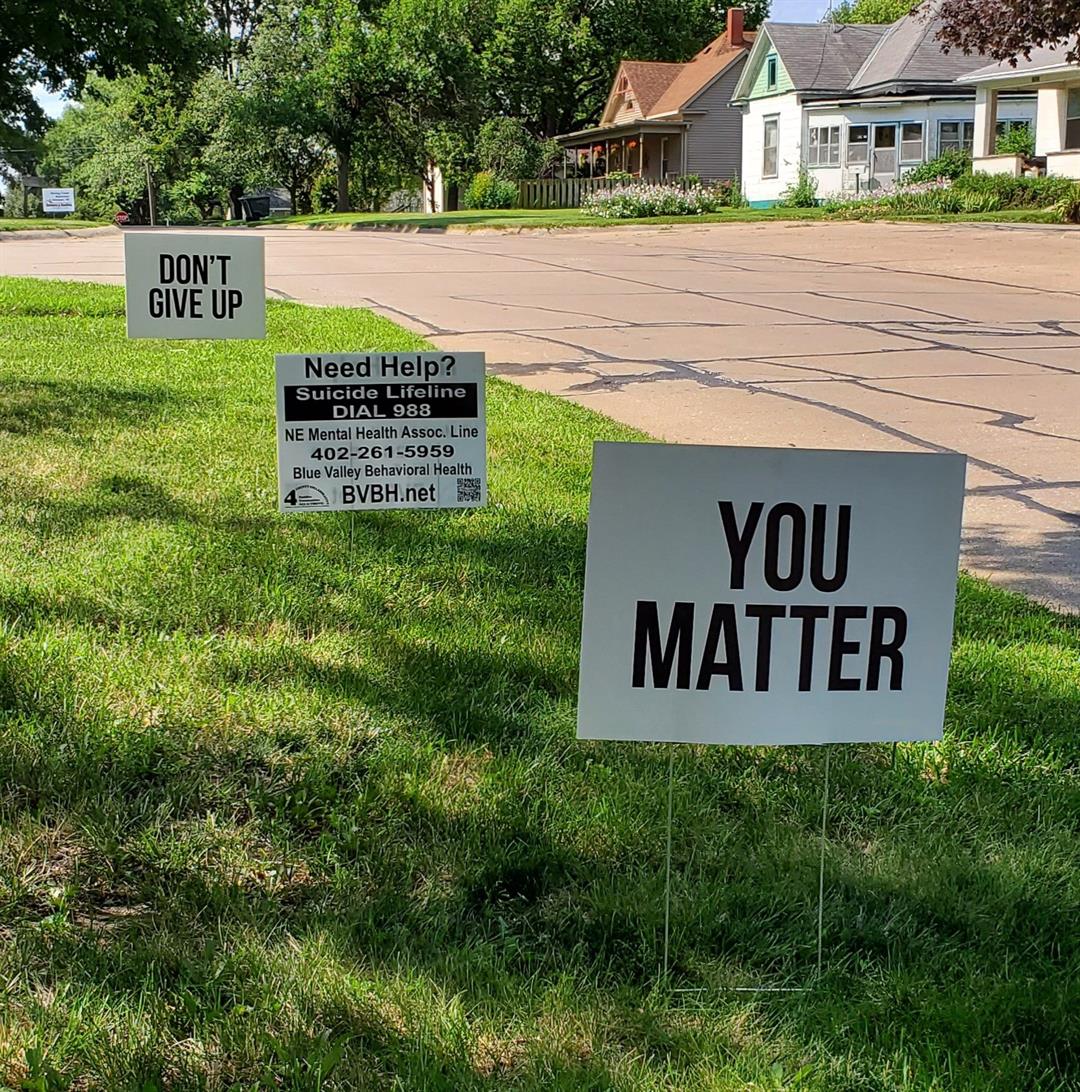 Osborne:  "We know that sometimes in life, people feel discouraged. The members of the Four County Collaborative hope that these signs will affect people in positive ways."
The signs were purchased with federal funds through Region V services
Osborne: "We hope that if any individual who sees our signs while feeling extreme depression and having suicidal ideations that it will help them to pause, see that there are people who care, and give them the information they need to take the first step to seek help."
The positive message signs, also purchased with federal block grant funds from Region V Systems, were obtained from www.dontgiveupsigns.com.
Residents of Richardson, Nemaha, Johnson and Pawnee counties can get a sign for their yard by contacting local representatives of the Four County Collaborative.
Johnson County – Susan Borcher, Early Development Network, Tecumseh at 402-335- 7613
Pawnee County – Lola Seitz, Pawnee City Public Library at 402-852-2118
Richardson County – Susan Johnson, Falls City Public Schools Sixpence at 402-245-3276
Nemaha County – Four County Collaborative at 402-414-2460