News
Three years later, Catfish Kolby's legend continues to grow
He may have cut off his beloved mullet, but Catfish Kolby is still one of the more recognizable kids in all of Southeast Nebraska.
Wednesday, July 13th 2022, 8:42 PM CDT
WEEPING WATER - Three years ago, Kolby Nash--better known today as Catfish Kolby--was in his kitchen with a mixing bowl, experimenting with different combinations of items he found in the cabinets, trying to create the perfect catfish bait. 
Little did he know he would end up creating one of the more popular catfish baits on the market.
Once everything was combined, Nash tried out his creation with his friends and the results were impressive as the bait worked almost instantly. They were catching catfish along with other lake dwellers often. One of his friends suggested that Kolby should start selling the bait to local bait shops. 
Fast forward three years, Nash now 13, is the owner and CEO of Catfish Kolby's Cut Bait. And business is booming. 
"We are in probably thirty stores now I want to say," Nash's father Brandon said.
The bait has continued to gain popularity and with it, the business has expanded. And it's just not here in Nebraska. Nash said the bait can be found at locations in Iowa and Minnesota, too. 
"I'm having trouble even trying to keep track," Brandon Nash added on how many places the bait is sold.
And as of last Friday, the bait is now available at the Scheels in Lincoln, a feat that Nash said is probably the biggest accomplishment of the business so far.
With the growth of the business, a special logo was created by Kris Lorensen Stanley to help with the branding. Merchandise such as hats and t-shirts soon followed as another revenue stream for Nash. Nash's Facebook page--which is ran by dad--is up to 1.9 thousand likes. People are constantly messaging the account and tagging Nash in posts, showing off the large fish caught with his bait. 
The Nash's also now have to use a distributor to deliver most of the bait to businesses as the demand has grown too much to take them to locations themselves. They went from selling a couple of jars a week to cases and cases at a time.
So, what is in the special combination that makes the catfish bait so great?
"It's a secret," Nash said.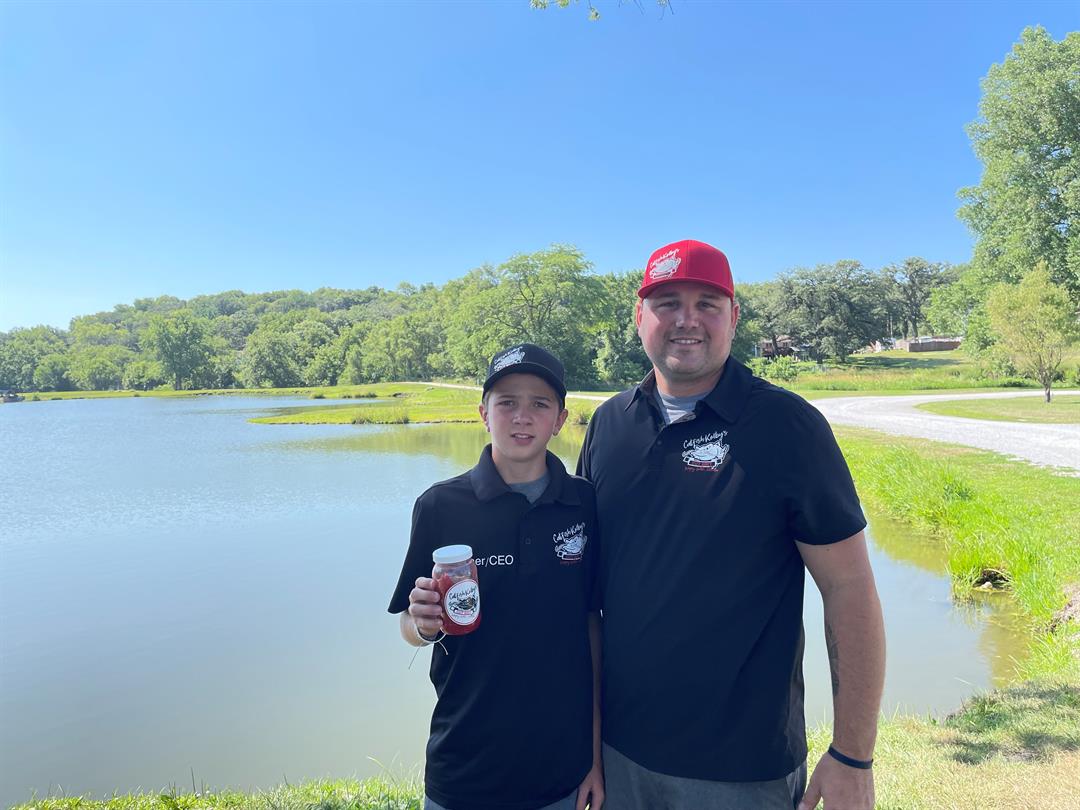 Once Nash started to make money, he set one goal for himself according to his dad which was to buy a four-wheeler by himself. Which he did and paid for it in cash. 
After purchasing the four-wheeler, dad told Nash to share what he said to him. 
"I'm going to retire," Nash said. 
But it's not all about making money and spending it on himself. Nash recently purchased 15 fishing rods for kids to use at Weeping Water Limestone Days, while putting on a fishing competition giving back to the very community that helped him grow.
"I try to get him to understand that without all of [the community support], Brandon Nash said. "None of this would be possible."
Dad handled most of the interview Tuesday as Nash was busy catching catfish, snatching four of them in just 15 minutes time, proving that the bait is the real deal. He is a humble young man that hates the spotlight and would rather spend his days at the lake casting his line out and reeling in fish after fish.
"I can't explain to you what it's been like as his father," Brandon Nash said. "To watch this, unfold has been pretty special."
"He doesn't understand just how big of a deal it is right now, but he will."
Most days, you can catch Nash out by the water, pole in hand, with a jar of the special Catfish Kolby Cut Bait nearby. 
You can follow Catfish Kolby on Facebook for any updates on future bait locations along with any other news and can purchase some of the Catfish Kolby branded merchandise at Nash Apparel (https://www.facebook.com/Nashapparel62 ) on Facebook.