News
Balloon festival heating up Falls City tourism
This year's festival features more food trucks and popular Kansas City band Fast Times
Thursday, June 16th 2022, 3:41 PM CDT
FALLS CITY – The hot air balloon festival that returned to Falls City in 2019 after a 20-year break and again after the pandemic is heating up local tourism.
The pre-pandemic opening drew an estimated crowd of over 5,000 and over 2,200 tickets were sold for last year's encore.
Amber Holle of Falls City Chamber and Main Street said the event continues to draw visitors.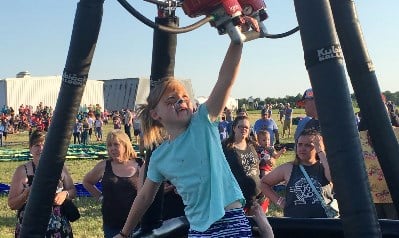 Holle: "Right now we're sitting at about 1,100 ticket sales, which is lower than previous years. I think we have a lot more to compete with. The world is back open. So many more events are happening again. But, of the 1,100 coming, I'd say at least 90 percent of them are not Falls City residents, which is great for our town to bring people in. It fills the motels, it fills the campgrounds."
Nebraska Tourism ended its 2019 season with the highest lodging tax collections ever with a $443 million contribution to the state's economy. Richardson County collected $36,700 last year, about $10,000 more than in the pandemic year.
Holle said the balloon festival presents the opportunity to show off Falls City.
Holle: "If you've never seen a balloon glow up close, there's something really special about it. It's almost magical. The sun is setting and the balloons will inflate with their propane and they glow. It's really cool, and, like I said, there is something almost magical about it. So that kind of sets us apart from other events."
She said more food trucks and live music by the '80s cover band Fast Times will enhance the visitor experience.