News
Unadilla Billie: Spring on its way!
Groundhog makes prognostication under gray, chilly skies at Unadilla
Wednesday, February 2nd 2022, 8:41 AM CST
UNADILLA – The focal point of the Unadilla Groundhog Day Celebration made her prognostication during a shadowless morning in Unadilla today.
"I'm Unadilla Billie. The sky is gray and it's chilly. Please tell everyone, it won't be long until spring will come... 
Bob Brandt: "It looks like we're going to get an early spring."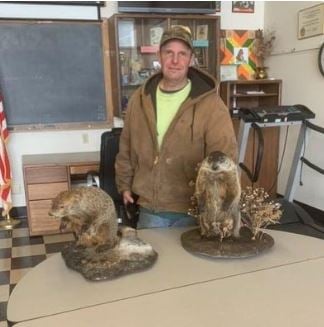 Brandt of the Groundhog Day Committee read a note from the stuffed groundhog, who replaces Unadilla Bill.
Unadilla Bill predicted the arrival of spring from 1988 to the pandemic year of 2021.
Taxidermist Duane Hansen prepared Unadilla Billie for public display.
Unadilla Billie will be available for "selfies" prior to the 2 p.m. parade on Saturday.
Punxsutawney Phil predicted six more weeks of winter after seeing his shadow in Pennsylvania.