News
Firefighters battling blaze in Auburn
Crews trying to contain fire to Betterway Automotive
Saturday, February 20th 2021, 8:22 PM CST
AUBURN – Firefighters continue to battle a fire at Betterway Automotive (Auburn Auto) with aerials working past 9 p.m. to stop the advance of the fire on the Highway 136 main street.
Auburn firefighters responded around 6:15 p.m. and found flames in the building complex, identified on scanner traffic at Tincher Better Way Auto.
Firefighters on the ground protected the fire wall between the complex and a building that houses Blue Valley and American Dream Real Estate at 820 Central.
An Auburn aerial truck worked from Central Avenue, while Peru firefighters staged on the northeast and a Nebraska City aerial was staged in the alley on the west of the buildings.  As the fire progressed through the roof towards Blue Valley Behavioral Health, the Nebraska City aerial moved onto Central Avenue to assist the Auburn aerial truck. Nebraska City also utilized a drone to help strategically battle the blaze
Auburn Auto, which has been at the location for 20 years or more, was open this morning, but there were no employees there since noon.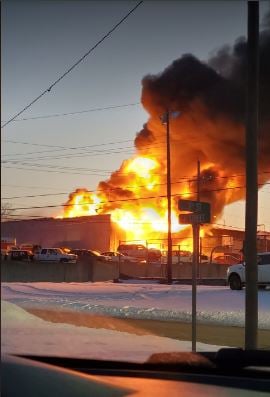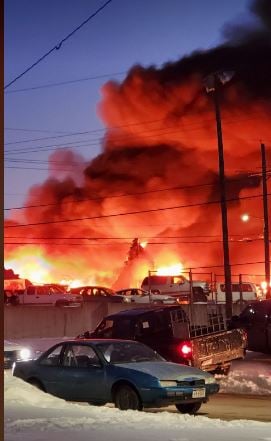 Brandon Petet of Auburn captured the photos around 6:15 or 6:30 p.m., about 15 minutes to a half hour after the fire was reported to firefighters.