News
Blowing snow near Murray leaves hazardous stretch of Highway 75
Temperatures expected to fall from 48 on Thursday to minus six by Monday
Thursday, February 4th 2021, 5:47 PM CST
NEBRASKA CITY – Blowing snow created drifts and moist pavement froze as temperatures fell after sunrise to make Highway 75 between Plattsmouth and Union hazardous.
Authorities blocked northbound traffic at Highway 1 near Murray for a jackknifed truck and semi-trailer. Minutes after traffic started flowing again, they turned around in the intersection to block southbound traffic for another accident near Union.
Most of the highway traffic lanes were dry, but there were patches that were  thousands of feet long between Plattsmouth and Union that were ice covered and rough. Wind made matters worse. The Plattsmouth Airport reported wind gusts up to 44 mph through the morning.
A blast of Arctic Air is forecast to sweep across Nebraska in the coming days, bringing the lowest temperatures of the season so far.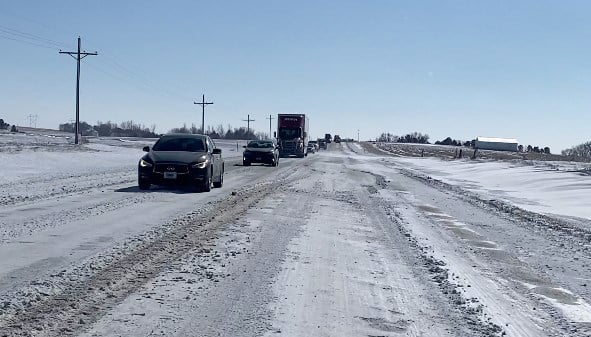 Unadilla Bill was all about spring in the final forecast of his 33-year groundhog career. His prediction came as temperatures across the Plains states averaged 3 to six degrees above normal, but dreams of spring may be in for a harsh awakening.
The Nebraska City airport reported a high temperature of 48 degrees at 4 p.m. on Thursday, but the high temp on Sunday might only be 6 degrees.
The Accuweather forecast is  temperatures ranging from zero to 13 degrees on Sunday and getting colder by Monday, when a  high of 7 degrees and a low of minus 5 is forecast.