News
Ladder truck awes in Falls City arrival
Fire chief drives final miles of truck's 1,500-mile journey from Vermont
Tuesday, January 12th 2021, 9:33 PM CST
FALLS CITY – Falls City Fire Chief Matt Beer reacted to the sight of the city's new ladder truck arriving on a 1,500-mile journey from Vermont with few words – "it was awesome."
He said the truck will enhance the volunteer fire department's capabilities with its 95-foot ladder and tank of 300 pumpable gallons of water.
The truck it replaces carries no water and has a 65-foot ladder. It is has not been certified since 2014 and has 88 repair citations.
Firefighter Ralph Gilkerson, who spent 45 years on the department, says the old white ladder truck has served the area well.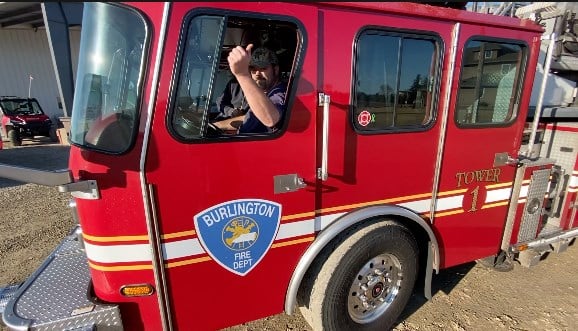 Gilkerson: "When we first got the aerial truck five days later  Sur Gro (fertilizer plant) caught on fire and we used it down there. We've used it uptown when the Sears store burned, we had the Mexican place, the restaurant that burned up, we used it on it."
Firefighter Jon McQueen said the Potrillos restaurant fire was a tough one for the existing ladder truck because the bucket did not stabilize as it is designed and firefighters were at risk. He said firefighters carried hoses up the ladder to maximize its use and said aerials from nearby cities helped save a section of the downtown.
Gilkerson was hired on in 1976 as a paid driver, but the first to drive the new truck is a volunteer, Chief Beer.
Beer has experience with heavy equipment at his job at the Morrill Elevator in Morrill, Kan., and noted that automatic transmission is beneficial for his first drive into town.
The fire department will be scheduling a two-day training session for drivers of the truck and it will be taken for new front tires, but for Tuesday night, it was fueled up and safely tucked away at the fire station.
He still had few words after pulling in to park at the fire station. How did it handle?  "Smooth," he said.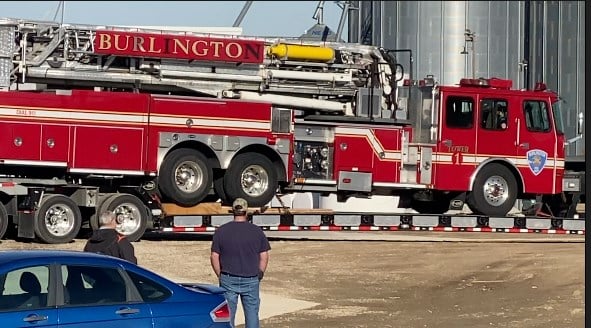 The Falls City Fire Department provided the following press release:
The City of Burlington, Vermont accepted from the City of Falls City, Nebraska an offer of $ 59,000  to purchase their used ladder truck.

 During its Monday October 19, 2020, meeting the Falls City's City Council voted 5-0 (with council members Holle, Ractliffe, and Wisdom absent) to authorize two of its members, Lucas Froeschl and Mitch Merz to co-chair to negotiate for this purchase.

 Spokesperson Jon McQueen, stated that Lucas and Mitch went above and beyond their elected duties as councilmen, with the many e-mails and text between the group sharing with Fire Chief Matt Beer and Asst. Chief Jon McQueen, who offered their input.

"Lucas, has been very professional and he deserves a lot of credit for this purchase."

" The truck was inspected by a third party, at the request of the City Council and found that, some minor repairs were needed. Those repairs were included with the offer, and have been completed.

The City hired Dennis Becker of Becker Trucking Inc. from Seneca, Kan. to haul the 81,500 GVWR Twin Axel 48'- 6" truck to Falls City on his RGN trailer and it arrived in Falls City mid-afternoon on January 12.

" The Falls City Fire Department wishes to thank Brewer Farms for allowing us to unload the truck at their shop with their assistance."

"The 2003 Custom E-One Cyclone II, 95' Mid-Mount Platform, was purchased new by Burlington, VT for $ 800,000  from E-One. It will replace the Falls City Fire Departments current 1981 Smeal 65' ladder truck, which the Fire Department has been trying for some time to figure out how to replace the 40- year old truck.

The department in 2018 had a demonstrator ladder truck in Falls City but it had a price tag of just over $ 900,000, and with the ladder truck rarely used it just didn't seem reasonable to spend that kind of money since other equipment is needing replaced such as air packs and the fire station's breathing air compressor.

"It was decided a used fire truck might be the answer, and the process began to look for one, and this one came up with good reports. The E-One 6 -man cab, 5 being SCBA seats, Detroit 60 500 HP Diesel Engine, Allison Automatic Transmission, Air brakes, 2000 gpm Hale Pump with Heat Pan, 300-Gallon Tank, Pre-Piped 1250 gpm Waterway with Electric Monitor, (2) 4500 psi Breathing Air to bucket, Hand Controls in Bucket, Complete set of Ground Ladders, Stokes Basket, An on-board Smartpower 8KW Generator, (2) 200' Electric Cord Reels, Scene Lights, Federal Q2B Siren, Emergency Lighting, with 77,910 miles.