News
Defense: Fuller remorseful for accident
Prosecutor says Nebraska City man must have known he ran over his girlfriend as he drove angrily away
NEBRASKA CITY – Joshua Fuller was bound over to district court Wednesday to stand trial for running over his girlfriend during an argument at a Nebraska City trailer park on Dec. 2.
Public Defender Michael Ziskey said 50-year-old Fuller is remorseful about the accident, but told the judge the state did not present enough evidence to suggest that it was anything more than an accident.
Police Capt. Lonnie Neeman testified that witnesses told him that Fuller and 44-year-old Shannon Robinson had been arguing and Fuller got into his pickup. He backed up, bumping into a car, and then Robinson stood in front of the truck.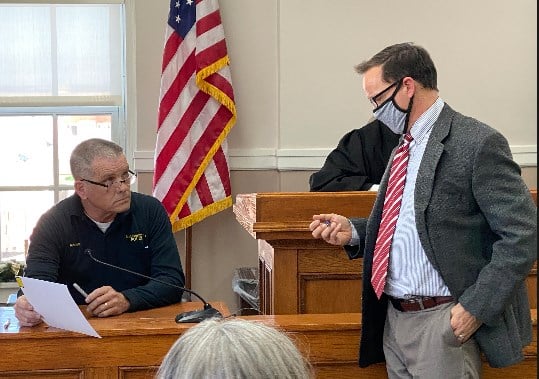 Ziskey said Fuller waited for her to go around the side, where she grabbed onto to a mirror and perhaps the door handle, before he accelerated forward.
Fuller wept in the courtroom as Cpt. Neeman described injuries that killed Robinson, the mother of Fuller's twin children.
Neeman said the rear tire of the pickup ran over Robinson, breaking ribs and fracturing her skull. She was taken off life support at Bergan Mercy Hospital after arrangements were made for organ donation.
Otoe County Attorney Jennifer Panko Rahe defended the charge of motor vehicle homicide saying Fuller drove the pickup in reckless disregard for the woman's safety and the charge of manslaughter citing the argument that spread from the trailer house they shared to the street outside.
Panko-Rahe: "He drove his vehicle in a very angry manner."
Neeman said that a witness told him that Fuller looked in the rearview mirror and out the window after the truck ran over Robinson, but accelerated away. Ziskey questioned the timing of the alleged glance at the mirror.
Ziskey said the evidence presented at the hearing only supports that Fuller left the scene of an accident. He said the woman grabbed onto the mirror and ran alongside the truck trying to stop Fuller from leaving, but fell beneath the truck.
Fuller was arrested two days later in Warrensburg, Mo., where his pickup truck was found.
Judge David Partsch dismissed the charge of using a weapon to commit a felony and first degree domestic assault as both charges imply an intentional act.
Fuller is scheduled for arraignment on Jan. 11.