News
Slama Reacts To "Sexually Explicit' E-mails, Writer Apologizes, Denies Role In Campaign
Nebraska State Patrol investigating e-mails from Palmtag supporter
Monday, September 28th 2020, 4:01 PM CDT
NEBRASKA CITY – State Sen. Julie Slama reported sexually explicit and threatening emails from a Nebraska City man she describes as a surrogate for her opponent on the Nov. 3 legislative ballot. Janet Palmtag responded Monday that the man owes Slama an apology, but said he is not an official part of the Palmtag campaign.
Slama released depictions of the emails on Twitter and said she is horrified by the language. The language does not meet B103 FM decency standards.
Slama said the latest "disparaging remarks" came Sunday.
Slama: "This is not the first time Janet Palmtag's campaign has attacked or lied about me. This attack is beyond despicable, degrades women everywhere and Janet Palmtag should be held accountable for the libel and misogyny on display."
A statement from Janet Palmtag Monday says the writer of the e-mails does not have an official position with her campaign.
Palmtag: "These words are completely inappropriate and Mr. ... should apologize for them. The Slama campaign continues their record of deliberately trying to mislead voters by saying that my campaign threatened and attacked her. Nothing could farther from the truth.
"These words are completely inappropriate"

Palmtag


In a press release, Slama calls for an apology from Palmtag and asks that she publicly distance herself from the e-mail writer.

Slama said the threatening communications have been reported to the Nebraska State Patrol.
Slama's Facebook post regarding the communications received 72 comments in the first hour, many with sentiments for Slama's safety and remorse that the state senator has been subject of the comments.
Of nearly 200 campaign photos published on the Janet Palmtag for Legislature website Monday, the man does not appear in any of them. He was not included Monday on a list of endorsements on the Palmtag campaign website.
A press release from the Slama campaign says the e-mail writer has attended public appearances with Palmtag and has written letters published in major newspapers in support of Palmtag.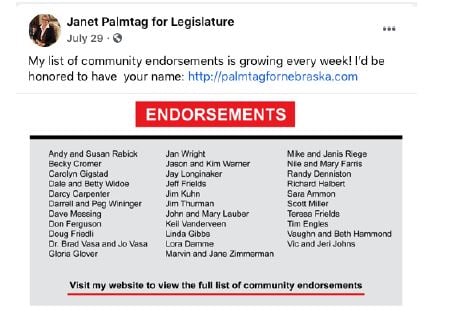 Slama's press release says the man was listed as an endorser on July 29, but an endorsement list of nearly 100 community members published on the Palmtag website Monday afternoon did not include the man.
A press release from the Palmtag campaign says the man had previously been a co-chair of the Otoe County Ricketts for Governor campaign.
The Nebraska State Patrol reports that it has received the e-mails and is looking into the matter.
Screenshot provided by Slama Facebook