News
Palmtag Claims Momentum After Landing At Fundraiser In Husker Helicopter
Former Republican Gov. Dave Heineman arrives with state Legislature candidate
NEBRASKA CITY -  Legislature candidate Janet Palmtag and former Republican Gov. Dave Heineman arrived at a campaign fundraiser Sunday in the Husker Helicopter.
Moments after touching down in a field near Palmtag's residence at Dunbar, Heineman said Palmtag is making strides in the race against Republican rival Julie Slama, who is the first district incumbent.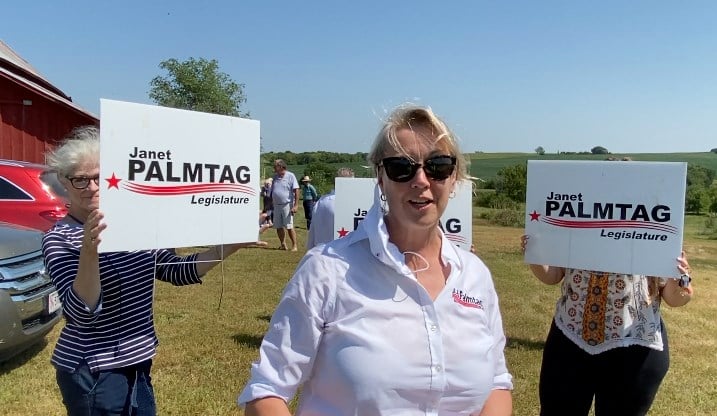 Heineman: "She's got the momentum. The reason I say that is recently the Nebraska Farmers Union withdrew their endorsement of Julie Slama in the primary, as the result of a letter that Sen. Kerrey and I sent out. Secondly, Nebraska's teachers, the teachers of this area, are supporting Janet Palmtag. The Nebraska State Education Association just recently announced their endorsement."
He said other voters have expressed to him that as they learn more about the facts of the campaign they are planning to cast their votes for Palmtag.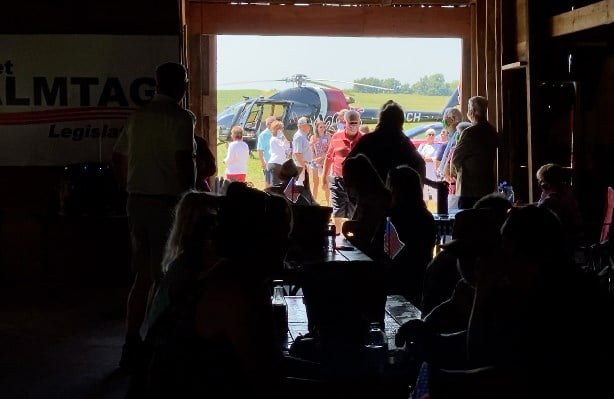 Palmtag said people from each of the counties in the legislative district were in attendance Sunday.
Palmtag: "It's super exciting to have the Husker Helicopter  here, as well, especially since we don't have football."
She said her message is getting through to the voters.
Palmtag: "I think in the primary I needed to get the message out on the issues and we were able to accomplish that, aggressively, over the last couple of months. It's going great."
Sen. Slama recently wrapped up the legislative session and said bills for property tax relief, rural broadband expansion, Second Amendment protections, tax relief for military retirement and a ban on dismemberment abortion speak for themselves.