News
Judge Describes Betts' Assaults As Sexual Torture After Victims Face Their Rapist
Judge says Betts appears to be claiming that he is the victim
Tuesday, August 11th 2020, 4:51 PM CDT
AUBURN – District Judge Julie Smith pronounced sentence Tuesday against an Auburn man after describing his sexual assaults of children as sexual torture.
Brian Betts, 51, will be eligible for parole at the age of 70 in line with a plea agreement. The judge said he could spend up to 100 years in state prison after she sentenced him to 23 to 100 years for the rape of two girls and 50 years for convictions linked  to child pornography.
Both victims spoke at Tuesday's sentencing. One victim told Betts he is the most awful thing that has happened in her life and said he broke his promise to her that if she remained silent he would not assault others.
She said she is not a victim, but of survivor of Betts' actions.
Deputy Nemaha County Attorney Angelo Ligouri  said Betts' criminal record speaks for itself, but added that if he were given an opportunity to re-offend, he will re-offend.
Betts spent most of his time in the courtroom prior to the opening gavel, staring at about 18 people in the gallery.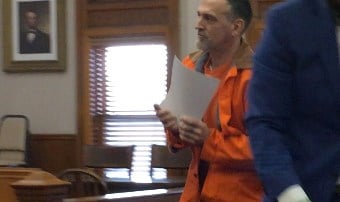 When given an opportunity to speak, he turned to the gallery to address a victim. He said the girl lied and said he is not guilty of all the things mentioned in victim letters given to the judge.
The judge asked Betts to face her rather than the gallery, but Betts swung his body in both directions.

He offered to take a polygraph test and said his attorney Keith Kollasch did not review all of the evidence in the hands of the Nebraska State Patrol.
Kollasch told the judge there is nothing in her sentencing that is illegal.
He told the judge that Betts is a victim of sexual abuse and said he can rehabilitate by the age of 70.
Ligouri said a victim statement is appropriate -- "Brian Betts isn't so scary when he's locked up."