News
Mayor Swears In Two New Police Officers
Bequette says he is encouraged by those stilling willing to answer the profession's call
Tuesday, August 4th 2020, 2:20 PM CDT
NEBRASKA CITY – Mayor Bryan Bequette swore in two new Nebraska City police officers at Monday's city council meeting.
Bequette said, as one who grew up as the police officer's son, working with the police is a part of the mayor's job he enjoys and values.
Bequette: "I tell you, after the last three or four months that our country has been through, to still see young men and women that understand the calling of this profession ... it's outstanding that young folks are still willing to answer that call."
Drew Wampler, a 2008 graduate of Conestoga High School, previously worked for the City of Plattsmouth's water and sewer department. He was a volunteer for Plattsmouth Fire and Rescue.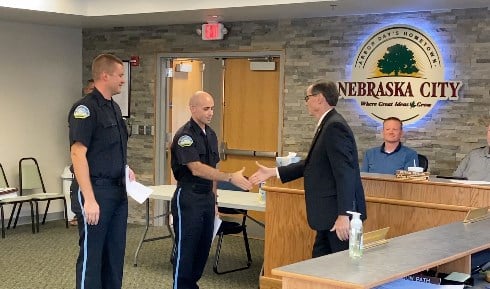 Ryan Graf graduated high school at Lake Central in St. John, Indiana. He was an infantryman in the U.S. Army at Ft. Campbell for five years.
Prior to joining the military, Graf worked a year at Douglas Tire in Nebraska City and decided he wanted to return here.
His father Eric Graf is a police officer with the Canadian National Railroad Police and pinned on Graf's badge at a ceremony Monday. Graf's wife also attended.
Wampler's badge was pinned by his wife, Brooke, while his two children attended.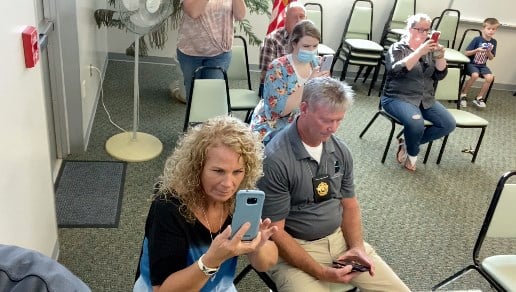 The men are scheduled to enter the Law Enforcement Training Academy in Grand Island on Aug. 30 for a 15-week course.
Chief Dave Lacy told city commissioners Monday that inclusion of the new officers into the rotation will put the police department at full force.
One officer fills the vacancy left by the retirement of Ofc. Richard Beutzer in June.