News
Seven Injured In Motorcycle Crashes On Highway 67 Curves Near Talmage
Motorcycles traveling in group during charitable poker run
NEBRASKA CITY – The Otoe County Sheriff's Office reports seven injured following a motorcycle crash on the Highway 67 curves near Talmage on Saturday.
Medical helicopters transported 39-year-old Melissa Foldenauer of Omaha and 53-year-old Kristin Kelly of Auburn to Bryan LGH Medical Center in Lincoln with serious injuries.
Also injured were 50-year-old Dawayne Peacock of Falls City, 54-year-old John Flynn of Auburn, 55-year-old Randy DeFreece of Auburn, 45-year-old Timothy Kuker of Humboldt and 40-year-old Mary Clary of Falls City.
Peacock, Flynn, DeFreece, Kuker, Clary and 60-year-old William Moore of Omaha were operating Harley-Davidson motorcycles involved in the accident. The sheriff's office estimates that six motorcycles are totaled.
The accident report says a motorcycle in front of the pack of motorcycles lost control from gravel on the roadway which caused him to "lay the bike over" in return caused the crash of the other motorcycles.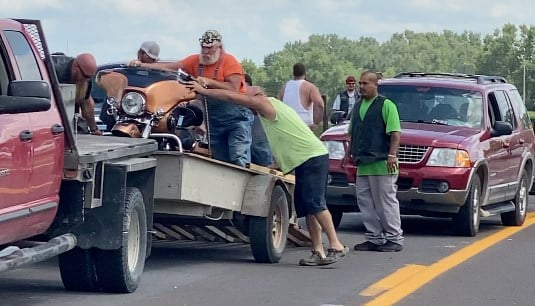 The sheriff's office accident report lists serious injuries to Kuker, who was transported by Nebraska City Fire and Rescue; and Clary, who was transported by Syracuse Rescue. Talmage Rescue also responded.
Injuries to Peacock, Flynn and DeFreece were listed as less severe.
A group of 24 or more motorcycles were traveling together on a poker run that included stops between Johnson, Neb., and Louisville.