News
Secret Ingredient for Hand Sanitizer: Pumpkin Wine and Philanthropy
Whiskey Run Creek Winery and Distillery produces hand sanitizer to fight coronavirus
BROWNVILLE – Ron Heskett of Whiskey Run Creek Winery and Distillery has  the chief ingredients for making a hand sanitizer to help slow the spread of a pandemic virus. It takes barrels of alcohol, a jug of glycerin and, for Heskett,  a heap of philanthropy.
Heskett: "It's just something that, you know, we thought we could kind of help out the community, so we took some of the wine that we had, distilled it – looked on the website to see how WHO, World Health Organization, how the recipe kind of goes."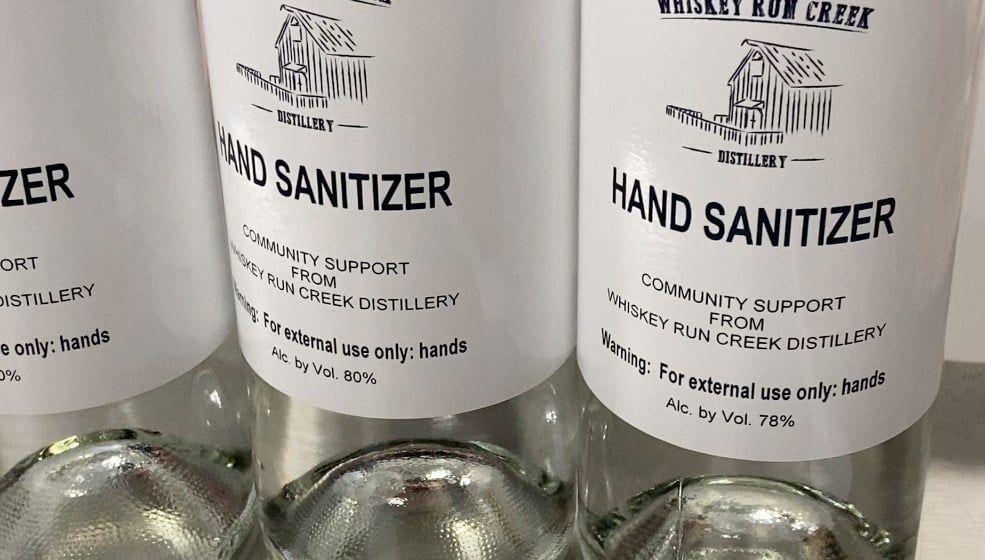 The Brownville winery and distillery is delivering the hand sanitizer to town halls,  police stations, the county courthouse and nursing homes. In exchange, Heskett is asking for donations to the school backpack program.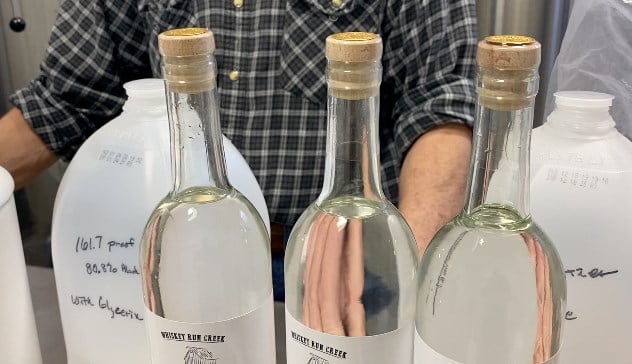 Heskett: "It's just a temporary product right now because we don't really have a formula for it, but the TTB (Alcohol and Tobacco Tax and Trade Bureau) opened it up so all of the distilleries across the United States can go ahead and make sanitizer at this point in time without having the formula.

Heskett: "So that's what we are doing. It's a temporary thing until all this blows over. Otherwise, we wouldn't be making hand sanitizer."
Heskett had some pumpkin wine that could be distilled into alcohol and his son Matt traveled in search of the other ingredients. It's a volume of hydrogen peroxide and a little glycerin to help soften it up.
Heskett: "That was the big hang up because we weren't sure we would get the hydrogen peroxide any place. We had the glycerol and the alcohol, but we didn't have the hydrogen peroxide. Now we have all three ingredients, so we can make roughly – by the time we get done with what we've already processed – roughly 100 bottles."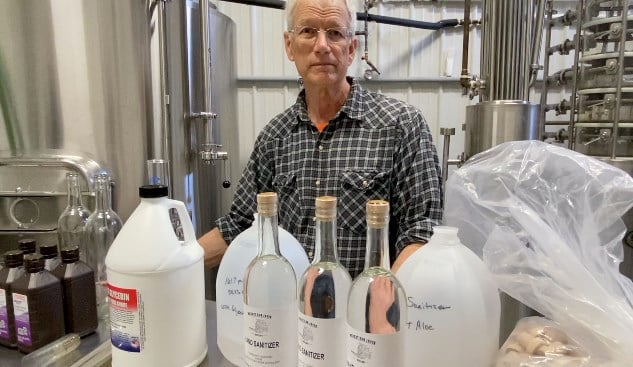 The winery's visitor numbers were hard hit by flooding that shut down the Missouri River bridge for seven months last year, but Heskett built a new waterfall and was looking forward to inviting customers back this spring. He hopes to be serving wine soon, but for now he will be delivering the disease-fighting hand sanitizer.
Heskett: "A lot of comments that people appreciate it. People say when this is all over they are coming down."