News
Face Time Still In the Lesson Plan For Syracuse Teachers On Parade
Teachers react to school closing extension with parade through rural towns, Syracuse
Tuesday, March 31st 2020, 8:59 PM CDT
SYRACUSE –Syracuse-Dunbar-Avoca teachers formed a parade Tuesday evening to let their students know that COVID-19 suspended their classes, but not their relationships.
Sisco: "When we got the news that school was going to be canceled until May, a lot of us teachers were pretty heart broken. We had seen some other schools that had chose to do the parade and we decided this is something we wanted to do to show support to our students and to our community members, to our parents."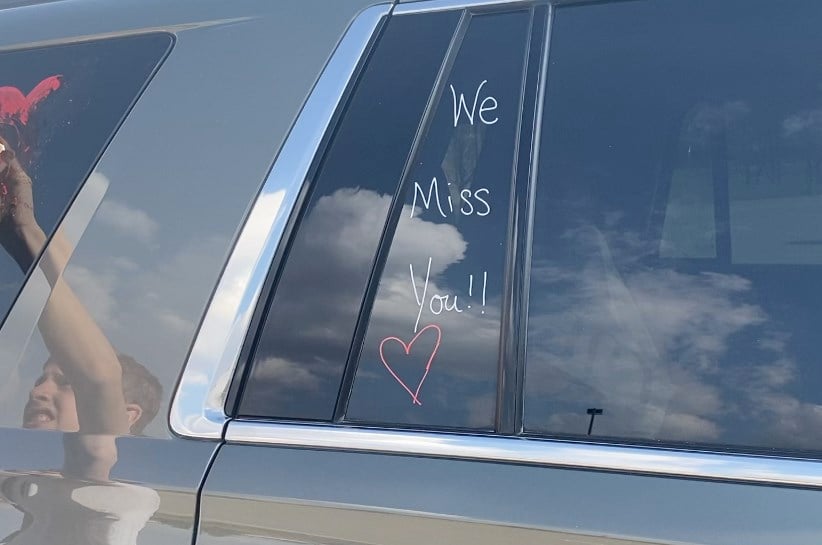 Within a span of a few days,  fifth grade teacher Krista Sisco went from getting ready for parent teacher conferences to the role of parade organizer.
Sisco: "We got the call on Sunday night saying we are closed, so it was very abrupt and a lot of us didn't have any chances to say goodbye to any of our kids.
And then we found out that we were going to be closed until May 1, which made it even harder for us to fathom not seeing our students for six, seven weeks."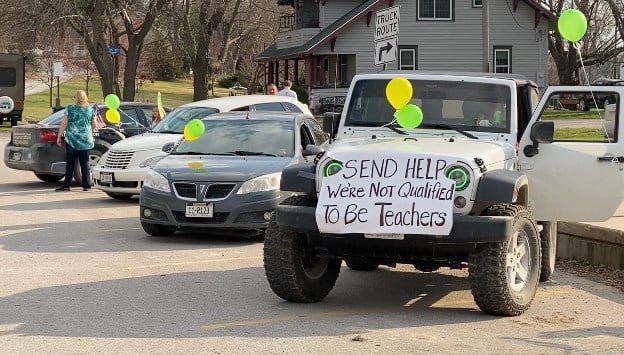 The Syracuse teacher's route went through the Syracuse Area Health hospital parking lot and all the towns that have students.
The 82-mile route went through Avoca, Otoe, Dunbar, Cook, Burr, Unadilla and Syracuse.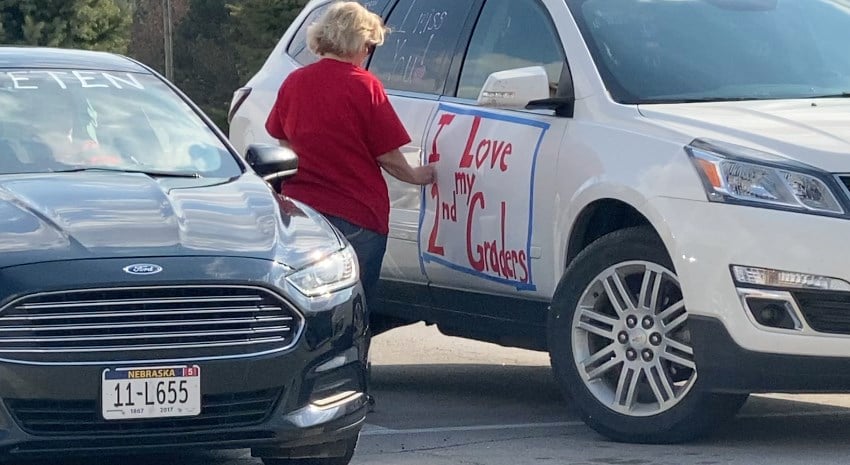 Sisco: "We love our students and we miss them. I mean this is not any easier for us. It's not like an early summer break for us. This is our job, our passion. This is what we love to do, to teach our kids and be with our kids, so this is just as hard for us as what it is for some of our students."
First grade teacher Amber Farley paraded with a van decorated with student photos.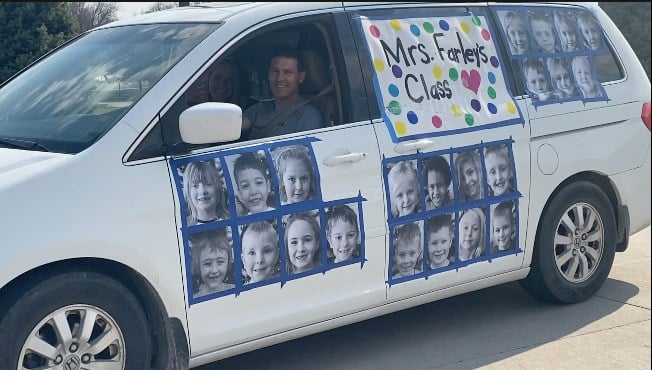 Farley: "This is my entire class. 22 of my second graders.  We miss them a ton."
The six-year-old daughter of Matt and Lindsay Tuxhorn carried her sign for Miss Woodward  to Highway 50.
Reese: "I love Miss Woodward."
About 50 people with  streamers, banners and signs greeted the parade at Otoe. News about the parade was spread on the Facebook page Village of Otoe Neighborhood Watch.