News
Health Board Meets At Nebraska City
Board reviews quarantine powers, Covid-19 risks, Walmart supplies and ways to help elderly stay at home
NEBRASKA CITY – The Nebraska City Board of Health was told Monday that it has the authority to enforce quarantine and isolation orders within the city to control the spread of COVID-19.
Southeast District Health Department Director Grant Brueggemann said there are 22 cases in Nebraska, but no cases in the district. He said up to 10 people in the district have been tested, but no corona virus has been found.
He noted that Gov. Pete Ricketts has ordered public events limited to less than 10 people.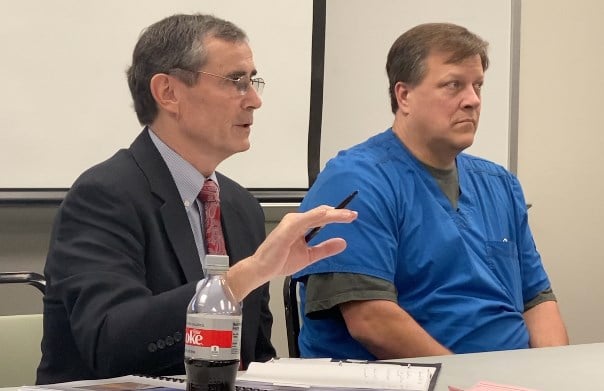 City Administrator Grayson Path said there are other triggers once community spread is happening.
Path: "So far it's not happening right now, but once community spread starts happening then they will start closing restaurants and bars."
At this point, bars and restaurants are not closed, but there is only suppose to be 10 people in there.
Dr. Bradley Vasa said people should be flexible and plan for daycare closures.
Vasa: "I think we're plugged into the right information sources. Is there more advice and changes coming, probably. We just need to be prepared for that. Is your day care going to need to shut down? I wouldn't bet against it. I think you've got to plan for that possibility."
Paramedic Manager Andrew Snodgrass said the federal CDC is recommended that older people stay home.
Snograss: "How will we tackle issues that go along with that? Whether it be medication, medication delivery, food, grocery delivery. How to start being proactive on those type of issues as they become more relevant."
He suggested establishing a set number that the elderly can call to have necessities delivered to their door.
Police Chief David Lacy said the department is hoping to keeps its officers healthy and on the job.
Lacy: "We're going to try and maintain our own numbers, so we can continue to provide service to the people."
He said officer exposure to the virus will be reduced if people make reports over the phone and officers attend fewer rescue calls.
Lacy: "We're going to continue to help out the rescue squad as much as we can, although, if it really becomes problematic, we probably won't go on the calls."
Walmart  Store Manager Leif Forster said the store is cutting back some overnight hours, but intends to stay open.
Forster:  "We are still receiving trucks daily, but like today, we basically handed one package of toilet paper off the truck to each customer that came down the aisle."
He said the store is experiencing unusual purchasing, including customers from larger cities.
Forster: "I thought my store was completely sold out of a lot of stuff, but I guess they're in worse shape than we are. That is a concern of mine. With the outbreak in Douglas County with those customers coming down here , trying to get their needs met."
 City Attorney Drew Graham said the Board of  Health has the power to implement any regulations it sees necessary in regard to quarantine and isolation.
Graham: "The city's power to regulate health and safety is through the board of health, so you the entity which acts on the behalf of the city."
He said no additional backing is required from the council, but a city quarantine ordinance could help establish a unified message.
Graham: "The city council could pass an ordinance for isolation and quarantine that would then give the board more standing to implement should it come down, say in a few weeks, that isolation or quarantines are necessary and the board of health starts to implement that, the city would already have that in its code to say this is the procedure or these are the violations, so if it then that it became necessary for the police department to start say implementing violations of quarantine or isolation that would also be in the code."