News
Auburn Man Among Injured On Icy Roads
Accidents include ramming of state patrol vehicle
Monday, January 13th 2020, 8:45 AM CST
by
by Dan Swanson
NEBRASKA CITY - The Nebraska 511 road condition map Monday morning continues to show icy bridges, partial snow cover and slick conditions on Highway 136 in Nemaha County and Highway 2 in Otoe County near Palmyra.
The snowstorm starting on Friday is blamed for numerous slide offs and accidents.
An Iowa State Trooper posted to social media Friday after a patrol vehicle that was pulled over on Interstate 29 near the Missouri border was rear-ended by a vehicle.
The state patrol says the car was going too fast for conditions around 2 p.m.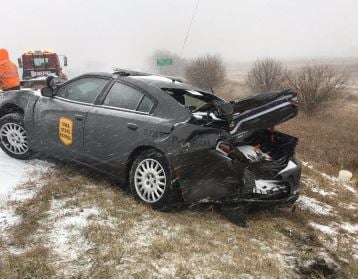 Also, Friday, Richardson County sheriff's deputies investigated a one-vehicle roll over accident at Humboldt on 638 Avenue and Highway 4. Injuries were reported.
Deputies also responded to a one-vehicle accident at 335 Square St. in Humboldt at 9:44 p.m. A driver had struck a light pole.
The Missouri State Highway Patrol reports an injury accident involving an Auburn man five miles west of Rock Port in Atchison County at 10:30 p.m. on Friday.
Online records say a Dodge Ram pickup driven by Elijah Taylor, 23, was westbound on Highway 136 when the truck slid out of control on an ice-covered road. The pickup left the road and overturned, coming to rest on its wheels.
Taylor was transported to Nemaha County Hospital in Auburn with moderate injuries.
Television Station KCCI reports an Interstate 80 fatality Saturday morning near Iowa City. A truck and semi-trailer left the road and overturned, killing a passenger in the truck. About 2 inches of snow fell in Eastern Iowa.