News
Turbine Blades Turn Around At Nebraska City
Iowa DOT says driver wary over cross overs for construction of Highway 2 overflow bridges
Tuesday, December 10th 2019, 2:00 PM CST
by Dan Swanson
NEBRASKA CITY – Traffic came to a crawl on portions of Highway 2 Monday evening as a truck hauling a wind turbine blade turned around at the Iowa border at Nebraska City.
Otoe County Sheriff Colin Caudill said deputies were on the scene for about 90 minutes, directing traffic as the over-sized load changed directions.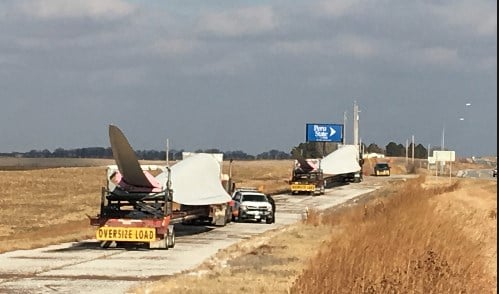 Caudill said Iowa canceled the transportation permit for the blades and they stopped at the border, but Dave Miller, who handles over-sized permits for the Iowa Department of Transportation, said the permits were not canceled.
He said the driver felt that a different route would be safer. Construction of overflow bridges is underway on the previously flooded area of Highway 2.
During this phase of construction, traffic on the four-lane highway is reduced to head-to-head traffic on two lanes. There is a cross over that could be difficult for a wind turbine blade.
Caudill said once the truck got headed back west, deputies realized a second truck hauling a wind turbine was in Nebraska City and attempting to turn around near the Orscheln's parking lot.
Other trucks with blades were stopped along Highway 75 between Auburn and Nebraska City.
Miller said there were three trucks involved with the permit. The company requested a new permit to use Interstate 80 and avoid the construction area on Highway 2.
Miller said it is not the shortest distance, but the company feels it is the safest.