News
University President Candidate Describes Passion For Education In Midst Of A Military Career
Priority candidate for University of Nebraska system president speaks at Nebraska City
Wednesday, November 6th 2019, 4:03 PM CST
by
NEBRASKA CITY –  Walter "Ted" Carter, the priority candidate to be the next president of the University of Nebraska, spoke at Nebraska City Wednesday about the connections between his military and education career.
University of Nebraska Regent Jim Pillen introduced Carter as a transformative and proven leader.
Born in Rhode Island, Carter graduated from the US Naval Academy in 1981. He then trained at the Navy Fighter Weapons School, during the filming of the movie Top Gun.
He said the experience was about more than high-performance, tactical flying, but about the mastery and art of teaching and learning.
Carter: "It was so impactful to me. That's where I realized that not only did I want to stay in the Navy, I wanted to make a difference in the educational part of the Navy."
His career took him to a federal service academy in Annapolis, Maryland, and to the position of president of the Naval War College. He most recently served as superintendent of the U.S. Naval Academy.
He said his interest in the Nebraska job solidified when he read the nine pillars of leadership the university was looking for in a president.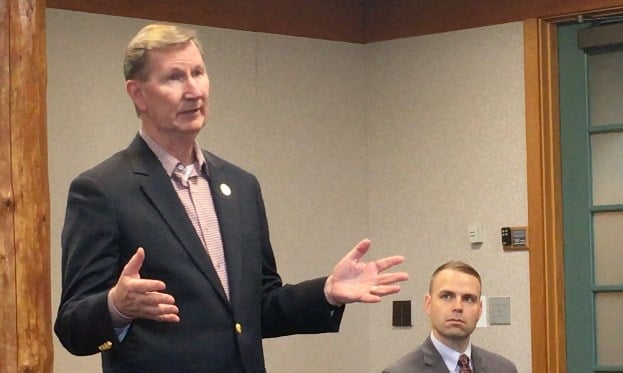 In addition to an understanding of diversity and inclusion, the One Nebraska concept, NCAA athletics and an appreciation of the land grant principles, he said he was drawn to the pillar of leading a complex organization.
 Carter: "I've been fortunate to lead all kinds of complex organizations to do incredible things while I was on active duty, not the least of which was to be the superintendent of the U.S. Naval Academy for five years, in which I said upon retirement that had been the highest calling in my life.
"This opportunity, to have the opportunity not just to be the priority candidate, but the opportunity to maybe be the president of the University of Nebraska system, I think would be the highest calling of my life because of the global impact that this university system has.
"Across all of its campuses, 52,000 students, 16,000 faculty and staff, it has major impact on not just the entire state of Nebraska, but because of its agricultural impact and the roots of the land grant university, impacts how food is made, the quantity of food, the quality of food, how we make clean water.
"That's going to have greater and greater impact on the nation and the globe in the years to come. I really would like to be part of that."
Carter said his vision not only speaks to the growth of the university system, but the growth of Nebraska itself.
 Carter's visit to Nebraska City is part of a statewide series of open forums that will allow Nebraskans to meet the candidate and provide feedback.