News
Ribbon Cutting Highlights Past And Future As 'Awesome Tribute To Veterans'
Local impact of the First World War motivated Nebraska City residents to ban together to build Veterans Memorial Building
Friday, August 23rd 2019, 9:38 PM CDT
by
NEBRASKA CITY – By the time Ted Beilman's widow cut the ribbon at the Veterans Memorial Building in Nebraska City Friday, it was no longer about historically-accurate windows, community activism or even the rebirth of a Nebraska icon from the First World War, it was about veterans.
Gloria Glover cut the ribbon surrounded by Lt. Gov. Mike Foley, state senators Rob Clements and Julie Slama  and representatives of Pella Corp., which introduced the new, time-period windows just over a year ago.
Light from 122 new windows exposed rough floorboards, crumbling plaster in a spot or two and faded curtains, but Mayor Bryan Bequette said the patriotism that erected the building in the aftermath of the war is still going strong.
Bequette: "This building is really about,  beautiful architecture, but a community that comes together to keep it in existence and it represents the honor that is pays to our veterans. It's enduring, it's beautiful and hopefully we can keep it going for, who knows, hopefully hundreds of years."
Kathleen Beilman, Ted Beilman's sister, said their grandfather, Louis Meyers, served in World War I and their father, Ewald Beilman, served in World War II.
Beilman: "Nebraska City had so many men and women that were in the military and having this building not being used … this is what Ted wanted. He wanted to be able to show all the vets and tell what they've done and how they did it."
Lt. Gov. Foley and Mayor Bequette remarked on how the building was founded in 1929.
Bequette: "It started with 12 folks coming together with a great idea and it grew to a Committee of 100 and it grew to 128 volunteers, canvassing the city for donations and for people that were willing to put in time and treasure for this building. I've got to think, if you've been in Nebraska City, if you've got deep roots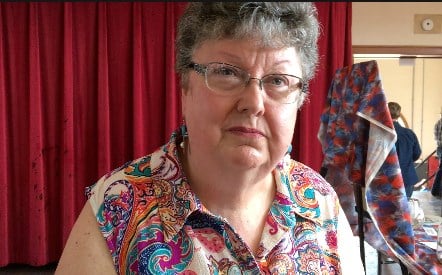 here, then probably your grandparents or your great-grandparents probably made a donation to this building."
Jim Kuhn thanked the Wirth Foundation for funding the window project, as well as the upcoming elevator and restroom projects. He also thanked the Veterans Memorial Building Board of Directors.
Kuhn: "The commitment we all have for this building and what Ted started and I guarantee that we're going to carry it on."
Brad Moyer was among those who were inspired as Beilman put together hundreds of tribute panels to the veterans and recognizes the value of a building that binds generations together.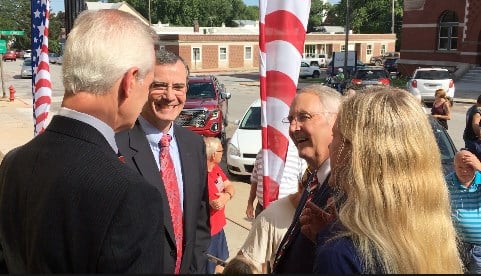 Brad Moyer: "The reason this building was built because the 'War to End All Wars' – World War I – was a nasty one. As it was pointed out there are generations of Nebraska Citians that made this possible. My grandfather's father, Charles Moyer, was one of the 'Group of 100.' His son Fred, who was my grandpa's older brother served two years with a mule team in France. The stuff they saw and the stuff they did came back and affected the family. It's not just World War I, my friend here has a son that went, I've got a son that's in. Thank you all for being here."