News
Mayor Mendenhall Resists Recall, Says He Owes Humboldt His Best
Mayor says failure of sales tax proposal puts city on tight budget for next two years
Tuesday, July 14th 2020, 1:08 PM CDT
HUMBOLDT – Humboldt Mayor Bob Mendenhall is reacting to a petition drive to recall him halfway through his four-year term and asking voters to retain him while he offers a realistic assessment of the city's financial progress.
Mendenhall: "The day I took office we basically had $70,000 worth of bills that were not paid and also payroll bounced, so that wasn't a good first-day in office."
He said the city had to do some things that were not popular, including a strict cost control program. He said the city benefited from a loan from the cemetery board.
Mendenhall: "In doing that, I made the promise to have it back to them in a year, which we did."
"At the present time, at least for now, we can pay our bills."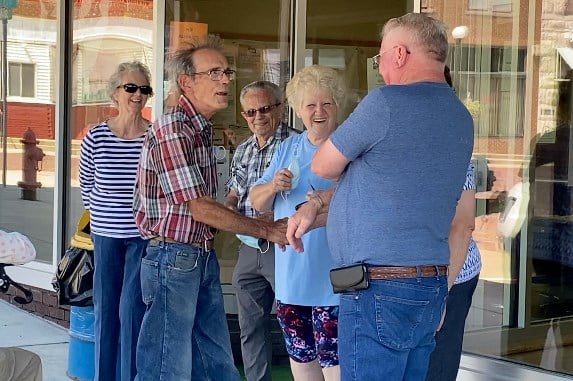 Recall petition circulators have until July 31 to get 113 valid signatures that would force the Humboldt City Council to set a recall election.
Sharon Rist of Humboldt talked about the recall petition.
Rist: "We feel that it is wrong. He has done so much for our town. We were in the red when he came in as mayor and we are now in the black."
Ann Berggren said many in town fully support Mendenhall and are grateful for his service.
Mayor Mendenhall said there have been financial setbacks, including a petition drive that stopped the mayor's move to sell some farm ground the city had set aside for the airport and the failure of a city sales tax this spring by a one vote.
Mendenhall: "We were trying to bring a little cash into the area, but most importantly I wanted to use some of these funds to be able to start cleaning up some of the areas that need to be cleaned up and, at the present time, we just don't have the finances to be able to do that."
Mendenhall, a retired maintenance supervisor, said he is receiving large community support to stay on the job as mayor.
Mendenhall: "I won the election quite significantly and I think I owe that to the community, to do the best job that I can. If I'm not doing a good enough job, I'm sorry. All I can do is the very best that I can."
He said he works with the city council to support the community and is confident in the city staff.
Mendenhall gave high marks to the city clerk and new city treasurer and credited the city maintenance staff for getting the city swimming pool ready to open on short notice.