News
Four people hospitalized in Pierce County crash
First responders from multiple counties were on the scene of a crash north of Norfolk Monday afternoon.
Monday, January 30th 2023, 4:23 PM CST
NORFOLK, Neb. -- A Pierce County crash injured four people Monday afternoon.
According to the Pierce County Sheriff's Office, the crash happened just before 3:30 p.m. on Highway 81 about seven miles north of Norfolk.
Rescue units from Pierce, Norfolk, Hadar and Madison all arrived on scene near Highway 81 and 850th Road near Hadar. The Nebraska State Patrol and the Madison County Sheriff's Office also responded to the call.
Pierce County Sheriff Rick Eberhardt said that his investigation indicated a southbound vehicle crossed the center line and struck a northbound pickup truck.
There were two people in each vehicle, all of whom were injured, Eberhardt said.
According to Eberhardt, the southbound car caught on fire after the crash, and witnesses pulled a mother and child from the vehicle before it was fully consumed by fire. Smoke could be seen in nearby towns before the fire was extinguished. The woman in the car was transported to a Sioux City hospital by LifeNet helicopter. All other parties were transported to Faith Regional in Norfolk.
Traffic remained closed to area traffic until approximately 5:00 p.m., with vehicles initially being stopped before authorities eventually diverted them to other roads.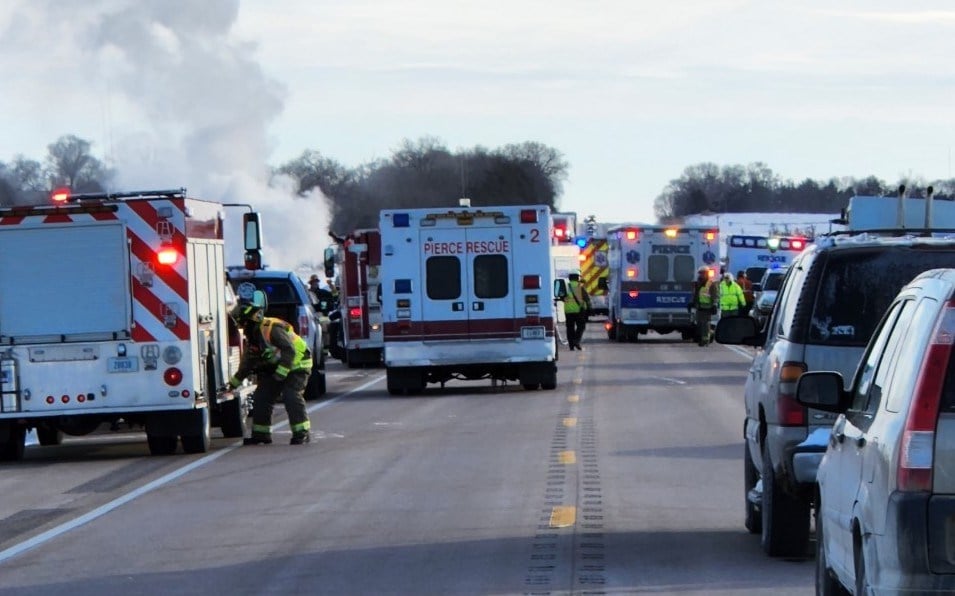 This is a developing story. Stay tuned to News Channel Nebraska for updates.